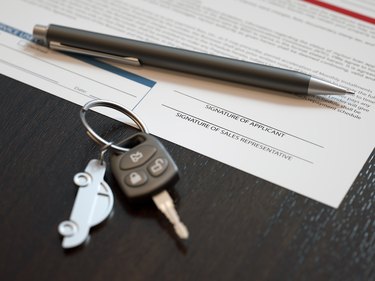 If your financial circumstances have changed since you purchased your vehicle, you might decide to refinance your car loan. Some reasons for refinancing include a chance to get a lower interest rate or the need to lower your payments because of financial difficulties. Whatever your reason, it is possible to refinance your car through Ford Credit, provided that you meet its qualifications.
Getting a Better Deal
The requirements to refinance vary based on why you want to do it. If interest rates have dropped since you originally financed your car and you want to take advantage of the new rates, you'll need to apply for credit as though you were starting from scratch. The first thing to do is to fill out Ford's online credit application and enter all of your current information. Next you'll need to provide proof of income and expenses as well as undergoing a credit check.
You'll take the same approach to apply if your personal credit rating has improved and you feel that you can qualify for a better interest rate than you originally got. The difference between a high interest rate and a much lower one could save you hundreds of dollars or more annually, depending on the size of your loan.
If your online application is approved, you'll get a certificate that you then take to a local dealership to complete the process. If the online application is not approved, it doesn't necessarily mean that you have been turned down, but rather that you need to go to a dealership and talk in person with a financial advisor about refinancing. You'll then need to pay some fees to complete the process, which vary depending on your circumstances.
Financial Hardship
Finding yourself with big bills after the loss of a job, a serious illness or other financial hardship could mean you risk losing your car because you can't afford the payments. In this case, refinancing through Ford Credit may be an option. You may be asked to supply some or all of the following items:
An application for financial assistance/refinance
A letter explaining the nature of the hardship
Proof of income, which may include pay stubs, bank statements, W-2 forms and your tax returns covering the last two or three years
Proof of insurance on the car
A credit manager at Ford Credit will review your documents and will contact you regarding your application. You may be approved right away or asked to provide additional supporting information.