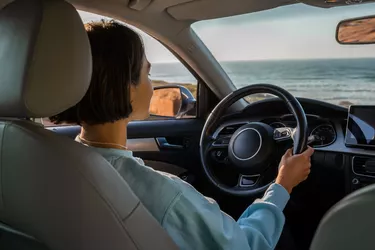 When financing a car, Ford Credit is one of the best options. Not only does it have competitive interest rates but it also has a wide variety of terms available. However, there might come a time when you want to refinance the car you got with Ford Credit. Refinancing is a way to adjust your auto loan terms, usually lowering your monthly payment. Generally, you'll want to wait until you have excellent credit to refinance; otherwise, you won't be getting much of a deal, according to the Federal Deposit Insurance Corporation (FDIC).
The process of financing your car with Ford Credit is straightforward every step of the way, and refinancing isn't too bad either. You have refinancing options if you're looking to lower monthly payments or want a new car payment plan.
The process of getting a new loan to pay off an existing loan is called refinancing. The new loan typically has different terms than the original loan. When it comes to auto loans, refinancing can help you change your interest rate, monthly payment amount or loan term. In some cases, it can also help you lower your monthly payments by lowering your interest rate. In general, the best way to refinance a car loan is to ask a few different lenders, such as banks, credit unions or other financial institutions, and then check to see who gives you the best rate.
You'll want to remember a few things before refinancing your car loan. First, your credit score plays a significant role in whether or not you will be approved for refinancing. The higher the credit score, the better your chance of getting approved for a lower interest rate.
Secondly, knowing what type of loan you currently have is vital. Some loans, like adjustable-rate loans, can be more challenging to refinance. Remember that when you refinance, you're essentially replacing the old loan with a new one, according to the FDIC, so you want to ensure you're getting the best rates possible.
How to Finance Your Car With Ford Credit
If you're looking to finance your car with Ford Motor Credit, there are a few things you need to know first. The process is straightforward, but there are a few eligibility requirements that you'll need to meet to qualify.
The beginning of the process involves the application. The good news is that you can do the entire process online in just a few minutes. You'll need to visit the resources provided by Ford Credit and click the "Apply Now" button. From there, you'll need to enter some basic information about yourself and your current loan details. You'll need proof of income and expenses and a current credit report.
Once you submit your application, a representative from Ford Credit will reach out to you to discuss your options and help you finalize the process. That's the final step in financing your car with Ford Credit.
Benefits of Refinancing Your Car
Refinancing a car you bought with Ford Credit has a few key benefits. First, you may be able to lower your monthly Ford car payments. When you refinance, you're essentially taking out a new loan with different terms than your original loan. This means that your interest rate could be lower, which would in turn lower your monthly payments. Remember that your monthly payment depends on how much you borrow, how long you take to repay the loan and your interest rate.
Another benefit of refinancing is that you could potentially save money over the life of your loan. Since you're essentially starting fresh with a new loan, you can choose different terms that better fit your current financial situation. This could include choosing a longer loan term so that you have smaller monthly payments or opting for a shorter term to pay off your loan sooner.