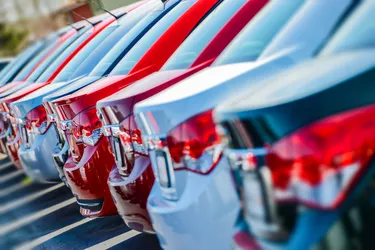 Soaring car prices are a clear example of how pandemic conditions have rocked the economy. If you've visited a dealership in the past year, you've probably noticed a combination of low inventory and high prices. If you're determined to purchase a new car in 2022, be prepared to face a steep dealer markup on the manufacturer's suggested retail price (MSRP).
Why New Car Prices Are High
The global chip shortage that is bottlenecking the automotive industry is behind the high prices. Many automakers have a backlog of orders for new vehicles that they still can't fill. According to Kelley Blue Book, the average new car has over 100 microprocessors that automakers can't get their hands on. Over the past two years, the production of chips declined due to pandemic-related shutdowns. And supply-chain issues only compounded the shortage.
This is how we ended up with low inventory. Meanwhile, demand for new vehicles kicked up during the pandemic as public transit use went into a steep decline.
Automakers felt the pinch and began using what chips they had to produce higher-margin vehicles. Car dealerships, faced with vacant spaces on the lot and high demand, initiated the market adjustment, inching up sticker prices on car buyers.
Kelley Blue Book reports current new car prices as increasing ​$6,220​ in 2021 – nearly doubling the increase in 2020 and almost 3.5 times the increase during 2019. The average final transaction price for a new car in December 2021 was ​$47,077.​
If you have a trade-in, you have leverage.
Just how much will that set you back each month? Edmunds reports the average new monthly car payment as ​$636​ in Q4 of 2021, up from $581 in Q4 of 2020. That's a pretty big nut to crack, especially with ​7.5 percent​ inflation as of January 2022.
If you're in the market for a luxury car, expect the price hike to be even higher.
The Car-Buying Year Ahead
Some automakers are asking car dealerships to dial back the market adjustment and reduce overall transaction prices for car buyers.
Ford Motors Vice President of Sales Andrew Frick wrote a letter to car dealers requesting a slowdown of markups. Kelley Blue Book reports similar action by General Motors, trying to curb inflated market adjustments.
Overall, manufacturers expect improvements in the supply chain and the production of microchips, which will eventually impact sticker prices. Kelly Blue Book says experts expect the chip shortage to improve in the second half of 2022.
President Biden recently urged Congress to pass legislation to help the U.S. overcome the current shortage and fund incentives to help produce more semiconductors in the United States.
It feels like things may be on the right track for change, but in the meantime, car buyers are at the mercy of the salesperson or dealership.
Getting Around Dealer Markups
The first way to avoid paying inflated prices on a new car is to stop car shopping for a while. When Kelley Blue Book says, "Simply put, there has never been a worse time to buy a new or used car," it is a strong incentive for a car buyer to wait.
But if you absolutely need to buy a new vehicle this year, start thinking about how you can cut the total transaction price in other ways. Since luxury cars face the steepest increases, you may want to shy away from that Porsche or Cadillac for a while.
Shop around. Consumer Reports recently published a list of some of the worst car prices out there right now. The Kia Telluride and Chevrolet Spark top that list at nearly 20 percent above MSRP. Look outside your local car dealers. Check out sales tax in different areas and consider the potential savings.
Cut out the add-ons. Just as dealers make a market adjustment to hike the price, you might want to adjust your expectations to counteract the high prices.
If you have a trade-in, be assertive about its value. With new vehicle inventory so low, there is high demand among car dealers for used car inventory. If you have a trade-in, you have leverage.
Research financing options. Every dollar you can save in the car buying process can help to counterbalance the additional expense of paying over sticker price for your new vehicle.