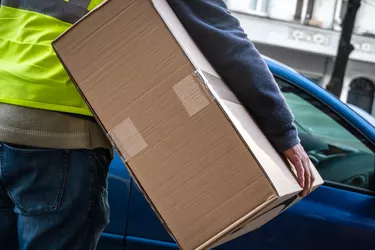 With around ​200 million ​members, the Amazon Prime service has increasingly gained popularity as more people have turned to online shopping and home entertainment. From its annual Prime Day sales to everyday benefits like free delivery, media streaming and online storage, a Prime membership can help you save money and gain convenience, but it does come with an annual or monthly fee to consider in your budget.
Exploring Benefits of Amazon Prime
While one of the service's earliest perks included free ​two-day​ shipping on orders, Amazon Prime has evolved to also offer convenient ​two-hour​ delivery services through Whole Foods Market, Amazon Fresh and Amazon Prime Now as well as same-day delivery for people who spend ​$35​ on an order. If you buy a lot through the website or prefer fast deliveries, Prime helps you save versus paying for shipping. You'll also receive perks like release-date delivery for media items and the Amazon Day Delivery option, which means you can have all your packages conveniently arrive on a certain day.
Alongside the shipping benefits, Amazon Prime members get access to special days such as the popular Prime Day in the summer. There are also special sales throughout the year where customers can buy Amazon devices like the Echo, Fire TV or Kindle for a discount. Additionally, you can benefit from discounts on prescriptions, baby items and groceries for Prime members as well as have the ability to try clothes before you buy them using Prime Wardrobe.
The trial period for your Prime account gives you access to all the features paid members receive, so you can use it to make a better decision on whether a Prime membership is right for you.
Amazon Prime comes with plenty of digital services that provide entertainment. Customers get access to the Amazon Prime video streaming service featuring Amazon Originals that they can enjoy on various gadgets such as a TV, computer or Android or iOS device. The subscription also comes with unlimited photo storage, Prime Gaming benefits, access to certain Kindle publications and select songs through Amazon's music streaming service. Having these Prime benefits might help you part with other paid subscriptions like Hulu, Spotify and Netflix.
Considering Cons of Amazon Prime
While Amazon Prime has several benefits, one con is that you'll have to pay for the subscription either monthly or annually. Students pay ​$7.49​ per month or ​$69​ a year, and the same deal applies to those who are part of government assistance programs. Other customers will pay ​$14.99​ a month or ​$139​ a year for the subscription. If you don't shop on Amazon a lot, or plan to use several media services, you'll need to consider whether your usage of the Prime benefits will make up for the membership fee.
There are also some Amazon services you have to pay for as add-ons even as a Prime member. For example, you'd need to pay to sign up for additional Prime Video channels like Showtime and HBO, access audiobooks through Audible or upgrade to Amazon Music Unlimited. While Prime shipping covers plenty of items, some items still come with a shipping charge or slower delivery speed, and you'll need to consider upgrade costs if you need an item urgently and it's under the ​$35​ minimum for one-day or two-hour delivery.
You'll also want to consider some of the limitations and risks that are cons of Amazon Prime. For example, having Amazon Prime might lead to ordering things more often since the quick shipping and easy shopping process can be tempting. You might also pay more for items if you don't shop around and just use Amazon since it's the fast and convenient option. Further, Amazon's entertainment services might not meet all your needs, so you might still incur costs for other providers and spend more than you planned.
Getting an Amazon Prime Membership
If you're interested in signing for Amazon Prime, you can give it a test drive through a free trial that's ​30 days​ for most customers and ​six months​ for students. The trial period for your Prime account gives you access to all the features paid members receive, so you can use it to make a better decision on whether a Prime membership is right for you. You'll need a credit card connected to your Amazon account to proceed, and you can cancel before the time runs out and not have Amazon charge you.