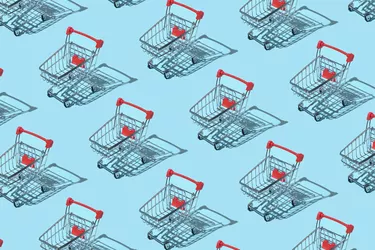 With rising inflation ravaging everyone's personal finances, it helps to save money wherever you can and Walmart+ is a good place to start. Walmart+ offers further discounts on the already low prices at Walmart stores and Walmart.com
Walmart+ is a paid membership subscription service. It is targeted at repeat customers who will benefit the most from their frequent purchases from Walmart stores, online at Walmart.com and at Sam's Club. A subscription to Walmart+ costs ​$98​ per year, or you can pay ​$12.95​ per month.
If you're a regular Walmart shopper and you're reasonably certain you will be shopping frequently over the next 12 months, then a yearly subscription will probably work best. if you're only shopping over the holidays, then a monthly subscription might make more sense.
Signing up for a yearly subscription will save you ​$57​ versus the monthly rate for a year. Walmart is currently offering a 30-day free trial.
To get started with a Walmart+ membership, you go online, sign up and select your payment plan. You can use your membership immediately to make purchases at Walmart stores and online.
A Walmart+ membership can help you fight inflation with discounts on Walmart products, gas and unlimited free delivery.
​Free delivery​ - You can get unlimited free delivery on items purchased through Walmart.com with no order minimum purchase amount. Free next-day and two-day delivery are also available for purchases made from your local store.
​Free grocery delivery service​ - Grocery deliveries are free with purchases over ​$35​. For purchases less than ​$35,​ Walmart+ members will pay a minimum delivery fee of ​$5.99.​ Popular delivery times are available on a first-come, first-served basis.
​Discounts on fuel​ - Walmart+ gives you a ​5-cents​-per-gallon discount at ​2,000​ Walmart and Murphy stations and ​10 cents​ off at participating gas stations. Walmart has recently added ​12,000​ Exxon and Mobil nationwide stations to its fuel discounts network. Members can also purchase gas at Sam's Club fuel stations, which already have lower fuel prices, but no additional discount is available.
​Advanced access​ - Members get notifications and early access to any upcoming special deals, including Black Friday. This perk is especially beneficial for discounts on popular game consoles.
​Mobile Scan & Go​ - When you're shopping in a Walmart store, you can use the mobile Walmart app on your cell phone to scan the UPC codes on your purchases. The app will keep a running total of your purchases and when you're done, you go to a self-checkout station, scan the QR code and have a touch-free checkout.
You can pay with a credit card wallet app in your cell phone or you can use the Walmart wallet. One downside to the Scan & Go app is that you cannot load and take advantage of any coupons.
​Access to Spotify​ - New members will receive six months of Spotify Premium for free. This perk is worth about ​$60.​
​Walmart+ Weekend -​ To compete with Amazon Prime Day, Walmart has introduced its Walmart+ weekend, which lasts three days and offers special discounts to Walmart+ members on a wide range of products.
Walmart+ vs. Amazon Prime
Amazon Prime costs more than Walmart+ but it has more benefits, primarily because of its huge inventory of streaming movies, TV shows, eBooks and music, which Walmart+ does not have. Amazon Prime costs ​$139​, recently increased from ​$119,​ for a yearly subscription and ​$14.99​ for month-to-month, so Walmart+ is the cheaper of the two.
Walmart+ has an advantage over Amazon Prime with its huge availability of physical stores. Customers can go into a Walmart store to see, feel and touch their products before committing to a purchase. You can't do this when you're shopping online so returns from online shopping are higher.
How to Get a Walmart+ Membership
Joining Walmart+ is as simple as going to their online signup page and completing the application. You can then choose between paying the ​$98​ annual membership fee or paying ​$12.95​ per month. If you prefer, you can start out with the 30-day trial membership.