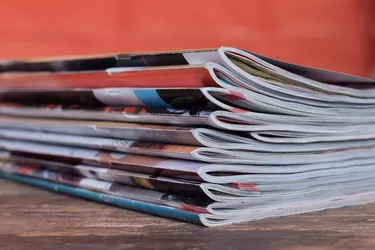 People offers a variety of subscriptions, including print and digital, at an average subscription price of just over $90 in 2020. This buys you 54 issues a year, including two double issues. Although People magazine is one of the most popular magazines in the United States – read by over 96 million people each week – there may come a time when you wish to cancel your subscription.
Head over to People's website and click the "Your Account" tab in the top right corner, followed by "Manage Your Subscription." You'll be prompted to sign in using your zip code and account number, which you can find on the address label of your magazine. Alternatively, you can sign in with your name and address, as these details match the People subscription. Once signed in, click the "cancel subscription" option and confirm your selection. You should receive a confirmation email when the cancellation has been processed.
People does not publish a customer services number on its website, but some consumer websites have rounded up all the digits you need to cancel your subscription:
General Toll-Free Number: (800) 541-9000
Customer Service: (800) 541-9000 or (877) 604-6512
Tell the representative that you wish to cancel your subscription and be prepared to provide your name, address and other identifying information, such as your People account number or the last four digits of the card used to pay for your subscription. Remember to ask the representative for a confirmation code and/or an email as proof of the cancellation.
It may take a few days to process your cancellation, so you may receive another issue or two of the magazine, in print or digitally, and get a bill for those weeks. After your subscription is canceled, you should receive a refund for your unshipped issues.
There may also be fees associated with canceling your plan. This depends on the subscription plan you signed up for – some discounted subscriptions may not allow cancellations during the subscription term and these plans will be non-refundable. You will, however, be able to cancel any auto-renewal for the following year.
If you're not clear on the terms of your subscription, speak to customer services.
Third-Party People Subscription Services
People magazine partners with a number of third-party subscription agencies to sell subscriptions on their behalf. Amazon.com and Magazines.com are popular examples of subscription agents. To cancel a subscription bought through these agencies and to claim a refund, you should contact the agency directly – you should be able to find contact details through a Google search. Amazon, for example, lets you cancel subscriptions online in a couple of minutes using the company's Magazine Subscription Manager.
Scams and Troubleshooting
The Federal Trade Commission has warned consumers about companies that sign people up for magazine subscriptions using aggressive or deceptive practices, such as signing you up for a "free" magazine as part of an unrelated purchase. The magazine is presented to you as a "gift" but it automatically converts to a paid subscription once the free trial is over – hitting you with charges you may not have been expecting.
To resolve this issue, speak first to People's customer service to opt-out of the subscription or prevent an auto-renewal. Then you will need to speak to the company who set up the subscription in the first place. If you feel they acted unethically, you have the option of filing a scam alert with the FTC.