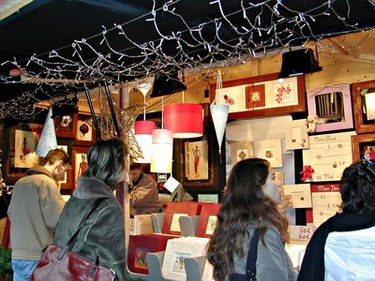 For a company or business that depends on consumers for its success, the value of consumer confidence is more important than the product or service itself. The business-to-consumer (B2C) model is simple: with a good product or service, consumers will have the confidence and incentive to choose your brand over a competitor brand. With a high-quality product and good reputation, you can build and increase consumer confidence.
Step 1
Build a strong reputation for your products and services. Customers will not spend their money on products and services that have received bad reviews or are produced unethically. For example, if a news release reports your business has been using child labor overseas, consumers may decide to boycott your product. It is important to maintain good public relations and handle your company's reputation in times of negative publicity. Conducting honest business and being truthful to consumers can increase their confidence in what you're selling.
Step 2
Release products and services to consumers only if you believe the product or service is of top quality. Many factors determine the release date of products and services, such as popularity, demand and trends. In order to keep up, some companies may be tempted to release their goods before they have fixed any flaws, causing them to release a poor-quality product. Consumers are more likely buy your product if it has received good reviews.
Step 3
Connect and advertise with your consumers across different media platforms, such as the Internet, print and television. Consumers want to associate a company with a "face." Depending on your company's target consumer, you can create campaigns to promote your business. For teenagers and young adults, social media is an effective advertising medium. Using the always the tried-and-true mediums of television, newspaper and email campaigns can also increase a consumer's confidence in your brand.