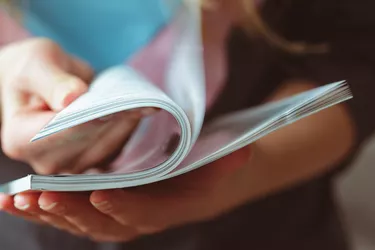 High-visibility fashion magazine ads grab reader attention and can hold it long enough to earn significant sales. Whether it be a Vogue ad or one in Allure or another publication, people love looking at them and can't wait to see the latest trends and products. How much does it actually cost to run an ad in one of these successful magazines, though?
There are any number of posted lists of top fashion magazines, with different winners shown. Magazine Line includes Elle, Harper's Bazaar, Vogue, Allure and InStyle in their top five, and these picks also show up in most of the other lists you will find. These established magazines reach millions of readers each and every month, and oftentimes the ads are just as interesting as the articles. Magazines publish their ad prices in their media kits, which can be found online.
One can find the circulation and cost of a Vogue ad on the Condé Nast website. This shows that their global print readership is 22.5 million, the digital readership is 86.2 million and that they have 167.5 million followers on social media. This includes separate publications in cities and countries around the world, like Australia, Japan and, of course, the U.S.
In the United States, Vogue has 8 million monthly readers, 17 million digital users and 64 million followers. Running a fashion magazine ad in Vogue brings with it the opportunity of reaching all of them. The magazine ad cost is not cheap but may be more than worth it for the revenue it generates. The open rate for a print ad on a regular page is $187,609. For a cover, you will pay $197,007, $225,156 or $234,554.
Other Fashion Magazine Ad Costs
Elle Magazine has a total readership of 4,539,000 and more than 15 million monthly site visitors. Their total circulation is 1,032,304, with close to 1 million paid subscriptions. A full-page ad costs $184,500, and covers range from $202,950 to $239,850. Like other fashion magazines, ads are also sold in smaller sizes than full pages.
Also designed for sophisticated fashionistas, Harper's Bazaar has a total readership of 2,913,000 and a total circulation of 739,338. A full-page ad here will set you back $177,805 and covers (inside front, inside back and outside back) cost $195,590, $222,260 and $231,150, respectively. Allure is in the same ballpark, at $183,048 for a single page; InStyle is $241,000.
Cost Per Thousand Calculations
The prices to run ads with these popular fashion magazines are steep, but you can determine the cost per thousand (CPM) to help you understand what it costs to reach the readers. As an example, if the total readership is 4,539,000 and the ad costs $184,500, the CPM is less than 5 cents.
Also, keep in mind that the purchased ads will be seen in print and online. More people go online to scan their favorite fashion magazine these days, so it is essential to understand how that works as well. Demographics are also important; you wouldn't want to run an ad targeted for mature Baby Boomers in a Generation Z-targeted publication.