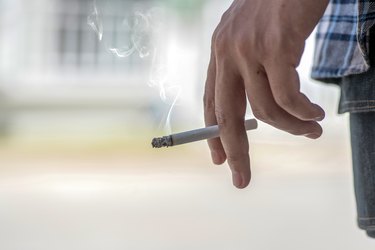 Smokers pay around ​$6.36​ for a pack of cigarettes, reports the American Cancer Institute. That may not seem like much, but the costs can add up quickly. If you smoke one pack a day, this habit sets you back ​$2,300​ per year or ​$23,000​ per decade. While it won't be easy to find cheap cigarettes, there are ways to cut costs without compromising on quality.
Tip
The most convenient way to find cheap cigarettes is to buy from duty-free shops. Another option is to purchase from a Native American reservation or a local smoke shop.
Most states prohibit manufacturers and retailers from selling cigarettes over the internet. However, consumers may purchase rolling papers, wraps and other tobacco products online, depending on the local regulations. So, if you feel comfortable rolling your own cigarettes, you can purchase these accessories from online retailers and then buy tobacco from physical stores.
The Smoking Store, for instance, offers cigarette rollers, tubes, disposable filters and other related products. Another option is Rolling Paper Depot, an online retailer of smoking accessories. You can also find what you need on eBay, Amazon and other online marketplaces. Hand-rolled cigarettes are a lot cheaper than their brand-name counterparts and can make it easier to adjust the amount of tobacco used. However, this doesn't mean they're safe or healthy – you'll still get a hefty dose of nicotine, nitrosamines and other harmful chemicals.
Some U.S. stores sell brand-name cigarettes online, but their legal status is questionable. Also, note that you may not be legally allowed to purchase these goods over the internet. The State of Connecticut, for example, prohibits online and mail-order cigarette sales. Local companies can only ship cigarettes to licensed Connecticut cigarette distributors and other businesses.
If you plan to travel anytime soon, take advantage of the discounts at duty-free stores. Consumers over 21 years old can purchase up to 200 cigarettes and 100 cigars when returning to the country, according to the U.S. Customs and Border Protection. Some duty-free shops allow travelers to order online and pick up their products in-store.
A good example is Dufry AG, an international retailer with over 2,200 stores worldwide. To buy cheap cigarettes, head over to its website – ShopDutyFree.com – and select the airport where you would like to shop. Next, browse its online catalog, choose your favorite cigarette brand and then select a pick-up point. You'll collect and pay for your order when you arrive at the airport.
DSF Group and Duty Free Americas offer similar services as Dufry AG. Duty Free Americas, for instance, has special offers year-round, including buy three, get one free or buy one, get one at 25 percent off. On top of that, their prices are much lower than in regular stores. Generally, the more you buy, the lower the price per cigarette pack.
Cigarette prices keep going up, as governments from around the world are trying to reduce tobacco consumption. However, you can still save money by cutting down, shopping around or using coupons. For example, some research companies offer coupons for taking surveys related to your smoking habits. You can also follow your favorite cigarette brands and smoke shops on social media to find out about their latest deals.
Another option is to switch to electronic cigarettes. The average cost of vaping Juul products is about ​$1,000​ per year, reports the Alabama Cooperative Extension System. Consumers who use refillable e-cigarettes spend around ​$1,500​ each year. These costs are much lower than what you would spend on conventional cigarettes. Plus, most states allow the online sale of vaping products, so it should be easy to find a good deal.
Also, note that smoke shops often have lower prices than grocery or convenience stores. Simply go online and look for smoke shops in your area. Contact them by phone or email to find out more about their products. Depending on where you live, you may also find cheap cigarettes at Native American reservations. Tribal members who sell tobacco products on reservations are exempt from excise tax, which allows them to pass the savings onto their customers.