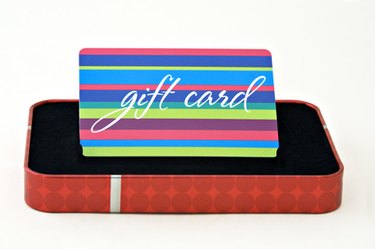 A little time and patience can earn big rewards with on-line survey program points. Major consumer companies such as Amazon, Paypal, popular hotels, airlines and chain restaurants have teamed up with market research organizations that want your opinion. They offer the opportunity to earn free gift cards without a required purchase, fee or completed offer, simply by filling out surveys online. Providing viewer feedback, sharing shopping habits and preferences, reading offers, playing online games, and shopping through reward site offers can score some really great returns.
Surf The Options
Step 1
Visit your favorite search engine and type in a combination of keywords containing "survey," "points" and "rewards."
Step 2
Choose a site, such as My Points, Opinion Outpost, or i-say, and click on "Join Now" or "Sign Up."
Step 3
Review the terms and conditions. Check for required purchases and monthly membership fees. Skip those sites.
Join a Survey Site
Step 1
Fill out the user profile page with your name and email address; some survey sites may ask for more detailed information such as your phone number or postal address. Read the website privacy policy to learn how your information is stored and used. Proceed with caution if your information is shared with a third party as that may increase the amount of telemarketing phone calls and direct mail you receive.
Step 2
Choose an easy-to-remember password. Signing in to the survey or points website will require either an email address or username and will always require a password.
Step 3
Complete your preferences and interests honestly to receive surveys relevant to your lifestyle. Profiles are matched to products to find the right audience for the product being reviewed. For example: A woman in her mid-30's who has shopped for beauty products in the past three months may receive surveys about anti-wrinkle creams or hair-care products.
Get Points
Step 1
Open emails from the survey website that read "a survey opportunity for you" or "new survey available." Click on the link in the body of the email to connect directly to the survey. Check the spam folder if you don't see any survey invites in your inbox. Adjust your email spam filter by clicking on the "Options" or "Settings" link on your email home page. Click on "Add" or "Create new filter." Type in or copy and paste the email address of the survey site into the "From or Sender" box.
Step 2
Browse offers through My Points and earn points. Click on the offer in the email and earn points automatically for the page click. Close the offer window by clicking the "x" in the upper right corner. Signing up for the offer is not required for point collection.
Step 3
Shop through My Points offer emails and earn multiple points to the dollar spent. Click on the emailed offer link and shop the partnered website. Points will automatically be applied to your account.
Cash In
Step 1
Go to the "Rewards" or "Member Account" section of the website and review rewards available.
Step 2
Check your point balance in the "Rewards" or "Member Account' section by clicking on "My Account." Match up rewards to your point total.
Step 3
Select your reward and quantity. Click on "Add to Cart" or "Select Reward." Proceed to checkout by clicking on "Checkout." The gift card will be mailed to a postal address or sent directly to your email address, depending on the website's method of processing.
Warning
Enter your demographic information with consistency. Inconsistencies may result in not qualifying for survey opportunities. Do not drastically change your background information from survey to survey unless something has changed in your life, such as a new baby, new job, new salary or a move to a new city.