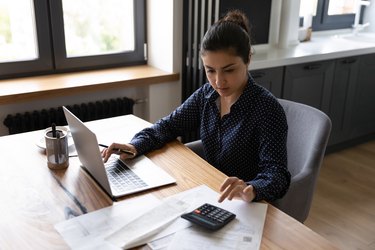 Can I install H&R Block software on more than one computer? Once you purchase the software, you might think you can do whatever you want with it, but that's not the case. There are licensing restrictions built into Tax Cut, H&R Block's program that allows users to do their taxes without an accountant.
Can I Install H&R Software on More Than One Computer?
You may be able to reinstall H&R Block software on a second or multiple machines, but it will depend on circumstances specific to your situation. To determine if it's possible to install HR Block Tax Cut on more than one computer, you need to read the software's licensing agreement. You can find this information in a variety of places. The easiest is most likely the "Help" section of the software; all you have to do is open the program and search in the Help section.
If that doesn't work, you can check the licensing agreement manually. You should start by opening the agreement on your computer and reading through it. It should explicitly state how many machines can use the program. Alternatively, try reading through any printed materials that came with the software, including a paper manual or box. Check the fine print. Finally, if all else fails, call Tax Cut customer service at 1-800-HRBLOCK; if you choose this method, you'll want to have your product registration information ready.
Alternative Solution: Use an Online Account
One alternative is to file your taxes online through H&R Block's website rather than downloading or installing software. One of the most considerable upsides to using H&R Block's online services is that you can access your account and tax information from any computer or device, as long as you have your username and password. Some taxpayers don't like to use online accounts for taxes because of privacy concerns. H&R Block will store cookies on your computer when you use their website.
Even more concerning, if H&R Block ever experienced a data breach, your very personal information, including Social Security number, complete address, income information and more, could be in jeopardy. However, these breaches are particularly damaging for companies like H&R Block, which would lose a large amount of customer data and potentially cost them a considerable amount of money in fines. Due to that, H&R Block makes data protection a top priority and employs the most cutting-edge technology to prevent breaches.
Frequently Asked Questions
If you're struggling to figure out the answer to "How do I contact H&R Block software support," the easiest way is to call them at 1-800-HRBLOCK. Their support also provides a dedicated Twitter page, but you can even make an appointment at a local H&R Block brick-and-mortar location and visit in person.
If you're wondering, "How do I download H&R Block software with activation code without CD," you can follow the instructions provided by the writers of H&R Block's support website. These instructions detail the exact process of downloading the software. If you're struggling with how to install H&R Block software on Windows 10, you can check H&R Block's support website for this, too.
If you're using the mobile app, you might ask, "Where does H&R Block save files on iPhone?" Other than the data required to run the app, H&R Block won't typically save files to your iPhone unless you ask it to, in which case you can choose the location. Your tax files will be stored in the cloud, accessible through your online account.
Can you download TurboTax without CD? Yes, you can, but you'll need to navigate to the TurboTax support pages instead of H&R Block. TurboTax is an Intuit product and is not affiliated with H&R Block.