Location, location, location. These days, the entire island of Manhattan is in demand for living and work space, with soaring rents to prove it. Although there's no question Manhattan is an expensive city, residents can manage to find ways to reduce costs and live well in Gotham on a budget. There are options for those wanting to rent an inexpensive Manhattan party room if they put in the time and effort.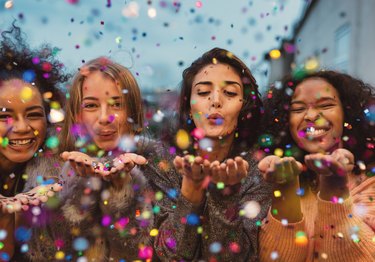 Apartment Complex
If you wish to hold a party in Manhattan you should first check to ascertain whether your apartment complex or your friends' complex has a party room. Residents can often rent out their apartment complex's party room for a budget price, though they may need to put down a cleaning or breakage deposit first.
Houses of Worship
Check the facilities at your local church of synagogue. Oftentimes, local houses of workshop have rooms that they will rent out at a reasonable cost to people who want to have a party. Some rooms look like fancy events halls while others look like basement dens, but you can still save a good deal of money on the rental and put a fraction of your savings towards fixing the room up for your party.
Rehearsal Studios
Manhattan is full of dance and other types of rehearsal studios, and many of them rent out these large spaces for parties at reasonable rates. You will have to ask about tables and seating availability, but studios that regularly rent out their spaces for parties will likely have access to these necessities. If you patronize, or live near, a dance, yoga or similar studio, ask the management if they rent out space, or if they know of studios that can accommodate you. Rehearsal studios are particularly suitable for kids' birthday parties, as there is plenty of room to run around and not much, with the important exception of mirrors, to break. In such a large space, you can invite your child's whole class rather than paring down the guest list, causing hard feelings.
Splacer
Splacer calls itself the "Airbnb" of event spaces. Sure, some of its rentals are quite pricey, but others won't break the bank. As with Airbnb, it's the wave of the future in such rentals, and there's no telling what sort of fascinating space an owner may make available. Manhattan property owners with temporarily empty or "transitioning" spaces may want to make some money in the meantime, so you could end up renting space in a garage, warehouse or loft, or perhaps a former church or synagogue that hasn't yet been reconfigured into residential or retail space
Peerspace
Peerspace is another company offering event venues, with prices ranging from affordable to very expensive. It all depends on the venue itself, and these change daily. Another plus: Peerspace can handle all the services you need for your party, even if you're on a beer budget.
YMCAs
YMCAs and YMHAs are great sources of cheap party rooms in New York City. The Harlem YMCA, for example, located at 180 West 135th Street, offers inexpensive community space rentals for parties and showers. The rental includes plastic tables and chairs and high-speed Wi-Fi access. For an additional fee, you can rent portable speakers, projectors and screen and laptop or DVD players. The Harlem YMCA can provide additional staffing for your party if needed, including an event host, art and crafts leaders and security personnel.
The Westside YMCA, 5 West 63rd Street, sports eight multipurpose rooms for rentals, and you can rent space any day of the week. While you don't need YMCA membership to rent a space, members receive a better rate. If you want to hold a party for a child or teenager, the Westside YMCA has special programs available.