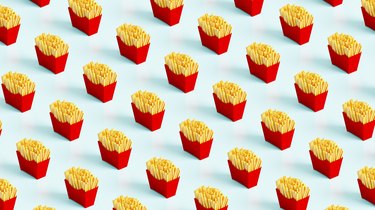 McDonald's is a company that has evolved in a big way since its inception in the 1960s. It has held its own through life-changing world events like wars, recessions and the COVID-19 pandemic. It has a history of performing well for stockholders, so you might be wondering, "Should I invest in McDonald's shares?" While it might seem like a no-brainer to do so, like any other kind of stock investment, you need to do your research and learn about the company before shelling out your hard-earned money.
According to the McDonald's corporate site, in early November 2021, the stock's (NYSE: MCD) 52-week low was ​$202.73​, and the 52-week high was ​$257.53​. You can invest in McDonald's shares through their Computershare Investment Plan. This is a direct stock purchase and dividend reinvestment plan that you can sign up for and use directly to buy and reinvestment McDonald's stocks through Computershare.
This plan allows account holders to buy and sell the stock themselves quickly. They can use the quick-access hub to access portfolios, transfer shares, make direct deposits, add or remove beneficiaries and change account information. Investors can purchase other kinds of stocks through Computershare, and they also offer investment trust and other financial products for consumers.
You can also invest in McDonald's shares by using an online or brick-and-mortar broker. All you have to do is create an account, deposit money and click or have your advisor buy the shares. The advisor or broker will use the cash in your account to make the purchases, and you will then be a part-owner in the corporation. If you prefer, you can work with a broker in person or use an investment app for advice to help you develop your portfolio. That person or source can advise you on buying McDonald's shares.
If you are still on the fence about investing in MCD, an article posted in August 2021 on Nasdaq.com could provide some helpful insight. With sales of ​$5.9 billion​, the company's net income was ​$2.2 billion​ and the stock was ​$2.95 a share​. This was remarkable, especially when compared to the previous pandemic year. However, these figures were down ​11 percent​ from 2019, so it is likely that their recovery is still ongoing. Their newer crispy chicken sandwich was successful, and higher prices also contributed to their success.
Should I Invest in McDonald's?
MCD has historically had steady income and growth. The company earns ​37 percent​ of its revenue from its net income, which is higher than Facebook. Nasdaq calls it a "great defensive stock," since it held up to the pandemic. Based on that, analysts feel that MCD has the fundamentals needed to hold up to almost any kind of downturn.
Though some see the stocks as overpriced, others feel the price is overshadowed by the company's global brand recognition, ability to change with the times and staggering profitability. It has an enviable spot among the S&P 500 companies and holds a secure place in the Dividend Aristocrats list, which includes companies that have increased their payouts for a minimum of ​25 consecutive years​.
Unfortunately, the stock market is a volatile environment. Be sure to consider current conditions, your financial position, and your aversion to risk before investing in MCD or any stock.