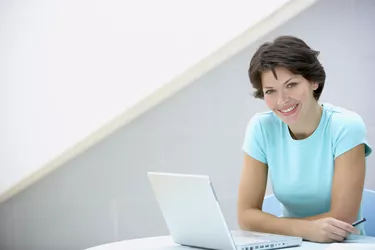 M-A-C (Makeup Art Cosmetics) tops the short list of the world's best-selling makeup on Forbes.com. The company is popular for its high-quality line of skincare and color cosmetics products, animal cruelty-free guarantee and its active participation in AIDS charity. The company was created in 1984 in Canada by Frank Toskan and Frank Angelo. M-A-C changed ownership to parent company Estée Lauder Incorporated in 1994, just three years after the first US store opened in Greenwich Village in New York City. The company has more than twenty different brands of beauty products sold in more than 140 countries worldwide, with billons of dollars in collective annual sales. Some other well-known brands include Aveda, Bobbi Brown, Clinique, LaMer and Michael Kors.
Step 1
Understand that because M-A-C stock is not publicly traded as a stand-alone corporation you can not be a direct shareholder in the M-A-C cosmetic line particularly, but can become an indirect shareholder by purchasing its parent company stock, Estée Lauder Incorporated. The success of M-A-C sales will influence the overall success of your Estée Lauder stocks.
Step 2
Research online, on TV and print media for Estée Lauder Incorporated stock information which can be found under the symbol "EL" on the New York Stock Exchange. Estée Lauder Incorporated stock was listed for public sale on November 17, 1995.
Step 3
Review the investor relations area of the Estée Lauder website, which has a variety of helpful detailed information and links for investors including; financial reports, upcoming events, webcasts, announcements, corporate governance and history. A customizable stock trending graph allows you to view how the stock performs, by the day down to the hour.
Step 4
Locate a stock broker if you don't already have one, to help you purchase your shares of Estée Lauder Incorporated stocks. If you feel you do not require any additional guidance on your stock selection, you can search for a discount or online brokerage; a full-service brokerage may not be necessary which will save you money in fees. ConsumerSearch rated Fidelity, TradeKing and ThinkOrSwim as the top three online brokers. ConsumerSearch offers expert and user ratings as well as highlights on online brokers.