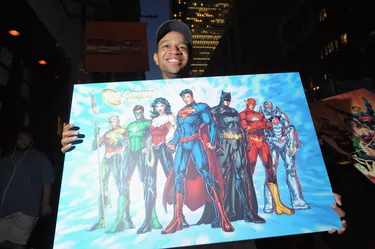 Things You'll Need
Online broker account

Checking account
Warning
The stock market is closed on holidays and weekends.
Tip
Stocks can only be traded Monday through Friday from 9 a.m. until 4:30 p.m.
DC Comics is home to popular comic books that include Batman and Wonder Woman. According to its website, DC Comics is the most diverse and largest English language comic book publisher in the world. DC Comics is part of Time Warner. As a result, individuals who are interested in buying a share of DC Comics stock must purchase Time Warner stock. Time Warner stock is publicly traded on the New York Stock Exchange. Anyone with an online trading account can purchase Time Warner stock, which trades under the TWX symbol.
Step 1
Get an account with an online broker if you do not already have one. Personal details, such as Social Security number and date of birth, are needed to open an account. Some online brokers include TradeKing, E-trade, Sharebuilder and Zecco.
Step 2
Set up an electronic automatic clearing house (ACH) transfer by entering your checking account number and routing number. The ACH transfer is used to fund your online broker account with your checking account. The online broker makes two deposits into your checking account for verification purposes.
Step 3
Confirm the two bank deposits in your online broker account. This complete the ACH checking account link.
Step 4
Go to the trading section of the online broker site. For example, in Zecco it is listed as "Trading Center" while Sharebuilder has it listed as "Trade".
Step 5
Select "Buy" as your transaction and enter in TWX under "Symbol." Key in the number of shares you want to buy under "Quantity" and set "Market" as the type of order.
Step 6
Preview your buy order to make sure everything is correct. Click "Buy" to make the trade and purchase the shares of DC Comics stock. An email confirmation of the buy will be sent to the email address on the online broker account.