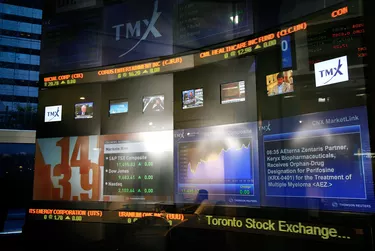 Tip
Choose an investment-only online stock broker (such as ING Canada) for the greatest control over buying and selling your TSX stocks.
Warning
Consult a financial adviser before investing copious amounts of money in the TSX, as the value can rapidly change and leave you with either great loss or great profit.
The Toronto Stock Exchange (TSX) is Canada's largest stock exchange and consistently ranks as one of the top ten largest stock exchanges in the world. The TSX has close to 4,000 companies trading over $2 trillion (CDN) worth of shares. Like its southern counterparts, the NYSE and the NASDAQ, the TSX offers an opportunity to individual investors to generate an income by buying and selling stock. As with all stock markets, investors may also lose money on the TSX. Learn how to buy TSX successfully and avoid the pitfalls of stock market trading.
Step 1
Decide how you wish to access and control your stock investments. Large financial institutions and banks (e.g. the Royal Bank of Canada and TDAmeritrade) offer stock accounts linked to the individual's general savings account. The bank then manages the investments for the individual and returns the profit in a manner similar to interest or a money market. The contrasting option is opening an investment-only accounts. This generally gives the individual investor more control over buying and selling decisions and is typically the best choice for first-time investors in the TSX.
Step 2
Create an account with your financial institution (for linked investment accounts) or investment-only account. For the former, contact your banks customer service department to learn how to link an investment account with your current savings account. If you are choosing to buy stocks through an investment-only account, choose an online stock broker. Online stock brokers offer flexibility and discounted rates to individual investors that larger stock broker firms do not. Examples include ING Canada and Questrade Canada. Links to these institutions are included in the Resources section of this article.
Step 3
Setup a payment plan for your investment account. If it is linked to your savings account, the Canadian bank will simply withdraw funds from your savings. If you have an ING Canada account or similar plan, you will be required to link the investment account to a credit card or bank account.
Step 4
Research the TSX stocks in which you wish to invest. The TSX is known for featuring a large array of oil- and energy-focused companies, but general consumer and automobile companies are also listed on the TSX. Consult a financial adviser or solicit recommendations from a fellow investor on which stocks historically perform well.
Step 5
Invest in TSX stocks and track your progress. Like all stock markets, the value of the TSX can fluctuate widely within the perimeters of a single, 24-hour day. Be vigilant and understand the inner mechanisms of a stock market by reading guidebooks and taking financial seminars. The more educated you become, the better your TSX stocks will perform.