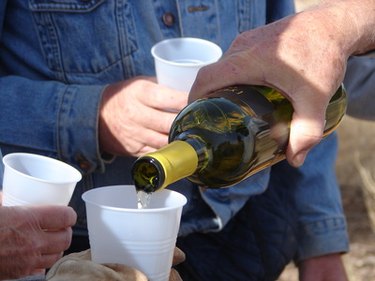 Sometimes homeowners shy away from holding a party in their own houses because of the pre-party cleaning and post-party cleanup. Hosts want to feel stress-free when they step into their own party. Holding parties in other places is becoming increasingly popular. However convenient it might be to hold your party elsewhere, it's important that you not break the bank.
Restaurants
Some people are apprehensive about holding parties in restaurants, but sometimes such options can be economical. The advantage of holding your party in a restaurant is that the party package takes care of all the things you would rent at another venue. Most restaurants include tables and chairs, centerpieces and a sound system with the total cost of the food and space rental. Another advantage is that you can pick restaurants you frequent, so the management may even give you a discount. On top of that, you can celebrate your birthday, anniversary or another important occasion in a place that means a lot to you. If the restaurant decorations aren't as spectacular as you imagined, you can always coordinate with the in-house event coordinator and add to the existing decorations, which saves you money compared to decorating the entire place from scratch.
Gym
Your high school gym or auditorium can be a viable venue for a party because such places often rent for low prices. You can rent some gyms for only $200 to $300, which is measly when compared to a real hall or garden setting—and even that price may be negotiable. If you are an alumnus, ask the principle for a discount. The accessibility and demand of the school and gym will also determine the rental fee. If your high school gym isn't as sought after as the one on the other end of the city, you may be able to score the gym at a much-reduced rate. You can use the dollars you save for decorations. Gyms often have tall ceilings and very generic structures, which make them great canvasses for party decorations.
Porch
Holding an intimate social affair on a porch is very chic—just ask Kate Hudson. The actress celebrated her 21st birthday on her mom's back porch. The setting of the green lawn and backyard trees allow you to save even more on party decorations; you simply provide tables and chairs. The best part about holding a party on a porch is that it does not have to cost a single cent.