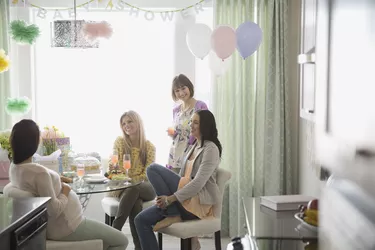 There are many good places to have a baby shower, but the most important detail is the comfort of the mother-to-be. Saturday is a common day of the week to hold the party; when and where the shower is held is up to the preferences of the host and mother.
In the Comfort of Home
Traditionally, baby showers are held at the host's home or the new mother's home. This option is not only convenient but free. Holding the shower at the new mother's house has extra benefits. The mother may be most comfortable at home. She does not need to travel, and her gifts don't need to be transported. Guests can stay to help clean up. However, the size of the guest list may be limited by the size of the house.
At Your Church Hall
Another inexpensive location to host a baby shower is at a religious hall. Most often, the rental fee for the hall is less if the host (or another guest) is a member of the religious institution. Usually church halls include amenities such as seating with advanced set-up provided by the church sexton, a fully equipped kitchen, restrooms and plenty of space for large guest lists. Reservations should be made ahead of time.
Outdoors at a Park
Hold a baby shower at a local or state park, if the season is right. Parks have pavilions,a scenic backdrop and, if needed, playground equipment for young guests. Parks usually require a reservation and charge a rental fee. Call the park office in your area to get more information about amenities and availability. Some parks even offer rentals on small cabins and lodges, which are larger than pavilions and have a kitchen.
At the Office
An office baby shower can be convenient for co-workers. However, office showers need to follow company policy, and reservations may be needed to ensure a room is not being used.
Unique Local Attraction
Want to host the party somewhere nontraditional yet inexpensive? Try your local orchard, ceramics studio, bowling alley or museum. These places often rent party space for a low rate. If the guest of honor feels comfortable in one of these unique locations, lasting memories can be made for everyone celebrating the baby's impending arrival.
At a Restaurant
If you want to splurge just a bit — and the idea of having no preparation and no clean-up appeals to you — take the baby shower to a favorite, inexpensive local restaurant. Many restaurants have reserved rooms, which offer privacy away from the main dining area, and you may not have to pay a separate fee for this private space. Instead of guests or the hostesses having to pay for a meal, many restaurants will simply provide dessert and coffee for a reasonable fee.