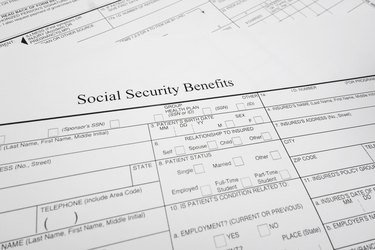 The Social Security Administration requires you to make it aware of any changes to your income, health or living arrangements within 10 days of the end of the month. This practice helps beneficiaries avoid delays and underpayments and eliminates costly overpayments. Failing to report these kinds of changes in a timely manner can result in benefit-reducing penalties or even removal from SSA programs. For this reason, the Social Security Administration provides multiple options to make the reporting process as convenient as possible.
Online
The Social Security Administration lets you report certain changes online through the "my Social Security" application. Go to the SSA website and click the "my Social Security" icon to log into your account. From there you can make changes to basic data such as your address, phone number and banking information for direct deposits.
By Phone
You can call the Social Security Administration at 1-800-772-1213 to report changes that can affect your eligibility or benefit amounts. These include changes in your medical condition, employment, income or assets, and changes in your household status, such as a death, birth, marriage or divorce. You may be asked to send in supporting documentation, so keep all related paperwork on hand. The SSA requires the originals of all documents you send. However, it will mail them back to you.
In Person
You also have the option of visiting your local SSA office to report these types of changes in person. Go to the SSA website or use the automated phone system to find the address and hours of operation of the office closest to you. Bring any necessary documentation with you to expedite the process and avoid interruption of your benefits.
By Mail
Another option is to report changes to the Social Security Administration via postal service. Call the SSA to request form SSA-1425 and the address of your local office. Once it arrives, fill out the sections pertaining to your change and mail it to the address you were provided. Be sure to include any supporting paperwork in the same envelope.
SSI Telephone/Mobile Wage Reporting System
Some people who receive Supplemental Security Income can report changes to their income trough the SSA's automated telephone or mobile reporting system. Eligibility for this option varies, so you must contact the SSA to determine if it's available to you and to receive information on accessing the system.