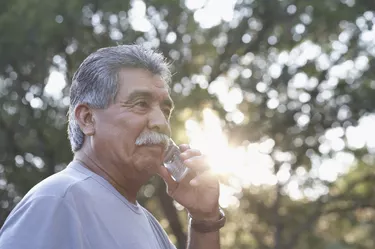 The Social Security Administration (SSA) is responsible for overseeing and distributing retirement, survivor and disability benefits. The National Academy of Social Insurance reports that 61 million people collect some type of Social Security benefits each month. If you find yourself among this statistic, chances are you'll need to speak with an SSA representative at some point. Although most SSA offices allow for walk-ins, it's best to make an appointment. Otherwise, you may find yourself waiting several hours for your number to be called.
Tasks You Can Complete Online
Currently, the Social Security Administration does not have an online appointment scheduler. You can, however, conduct certain business with the organization through their website. For example, you can apply for retirement, Medicare, spouses and disability benefits online. From the website, you can review your information, manage your account and request a replacement Social Security card. You can also appeal a disability decision online instead of responding through the U.S. Postal Service.
According to the Social Security Administration website, you can make an appointment with a representative by calling 1-800-772-1213 (TTY 1-800-325-0778) between the hours of 8:00 am and 5:30 pm any Monday through Friday. This is also the number that you'll use if you need to reschedule or cancel your appointment. Make sure you have your Social Security number handy when you call, as well as the name of your caseworker, if you have one. You'll be asked to provide your full legal name, as well as the reason for your call, so the employee can schedule you with the correct SSA representative.
Contacting Your Local SSA Branch
Another way to schedule an appointment with Social Security is to contact your local SSA branch. If you don't know the address and phone number of your local branch, you can use the organization's Field Office Locator tool on their website. Simply click the blue "Locate an Office by Zip Code" button and enter your zip code into the provided field.
Once you do this, you'll be provided with the address, phone number and fax number of the closest SSA office. There will also be a gray button on the bottom that you can click for a map and directions. There's even a blue link you can click to get information about closings and emergencies.
Things You'll Need to Bring
When making your appointment with the Social Security Administration, you'll want to inquire as to which documents are needed for your in-person appointment. This varies based on the reason for your visit, but may include the following:
Proper identification
Proof of income (including tax returns for self-employed individuals)
Proof of residency
Birth certificate
Death certificate
Copy of your U.S. military service papers if applicable

Bank information if setting up direct deposit
SSA also provides full checklists online that you can reference to determine exactly which documents will be required for your visit. The organization states that it is best to show up for your appointment and not postpone just because you don't have all of the required documents at the time of your visit. They report that you can always provide the missing documents at a later date. Rescheduling your appointment can result in you missing out on benefits, as they go by the date you submit your application, not the date all of the documents are provided.
Not all Social Security offices are open for in-person appointments at this time due to COVID-19. If your local office is closed, you can still schedule an appointment with a representative using the information provided above. The representative will call you at the appointed time and let you know how to apply, submit documents and check on any applications.