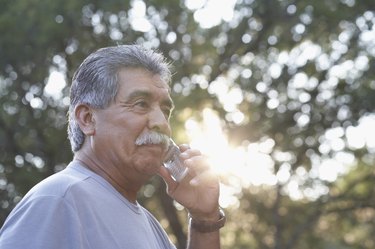 Although you can take care of things like determining eligibility, applying for benefits and appealing a decision on the Social Security Administration's website, there might still be times when an in-person meeting is necessary. You'll need to schedule an appointment over the telephone, since as of 2014 there is no online appointment scheduling option. To find the address, driving directions, hours of operation and the telephone number for your local office, call 1-800-772-1213 or enter your zip code in the online Social Security Office locator.
Make an Appointment
To schedule an appointment, call the Social Security Administration's general customer service line at 1-800-772-1213 between 7:00 a.m. and 7:00 p.m. on Monday through Friday, or contact your local office during normal business hours. When you call, you'll need to provide your full legal name, give the representative your current contact information and state the reason for your visit. Although wait times vary by location, according to the general helpline, the average wait time for an in-person appointment is one to two weeks.
What to Bring
The information you should bring to the appointment varies according to the reason for the visit. However, a good general rule is to bring anything that can help you establish or support Social Security eligibility. This typically includes your Social Security number, proof of residence, birth or death records, wage information or a self-employment tax return for the previous year. If you are submitting a new application and want direct deposit, you'll also need the name of your bank and your account number. For specific information, ask the phone representative for a list of what you should bring or download a documentation checklist from the Social Security website.