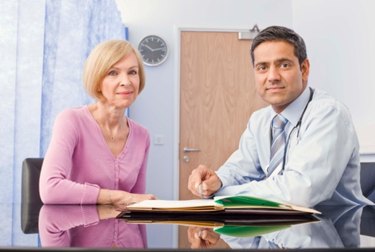 Supplemental Security Income is a Social Security Administration program that provides cash and Medicaid coverage for individuals who have a significant disability that prevents them from working for a long period of time. SSA performs periodic medical Continuing Disability Reviews to see if an SSI recipient's disabling condition has improved. Medical CDRs can vary but often include a questionnaire and an exam by a physician. If SSA finds that your disabling condition has improved, your SSI benefits may end, so it's important to make sure you have accurate, up-to-date medical information.
Step 1
Answer the questions in the questionnaire. This portion of the medical CDR will ask for information about your disabling condition and how it affects your ability to work. Where possible, refer to your medical records to ensure you are answering questions accurately.
Step 2
Provide all medical information to the physician performing the exam. You will not go to your regular doctor, so providing your medical files that document the persistence of your disabling condition can help the examining physician to understand your medical history.
Step 3
Emphasize the impact that your disability has on your ability to work during your exam. The physician is examining you to see if your disabling condition has improved to the point where you would be able to work, so by directly addressing that in your communication with the physician you can be clear about your need for SSI benefits.
Step 4
Return all forms to the SSA by the date indicated. All SSA forms that require your action will state clearly the action needed and the date it is due.
Tip
If the SSA determines that you have medically improved and you feel that you haven't, you have the right to appeal the SSA's decision. The letter that you receive notifying you of the SSA's decision will have information about the appeals process. In many cases, if you appeal quickly, you may qualify to continue to receive your SSI benefits during the appeals process.
Warning
As an SSI recipient, you are responsible to report a number of details to the SSA. One requirement is to report any changes or improvements in your medical condition. If you do not report these changes and any other required information to the SSA, you may be subject to an overpayment for SSI benefits that were paid to you while you were not eligible for the program.
Things You'll Need
Medical records

Medical review notice from SSA