Life insurance is a serious matter, as evidenced by the pile of paperwork you might need to deal with when applying for coverage. An "APS" is one piece of paperwork that your insurer may request during the application process. "APS" is short for attending physician statement.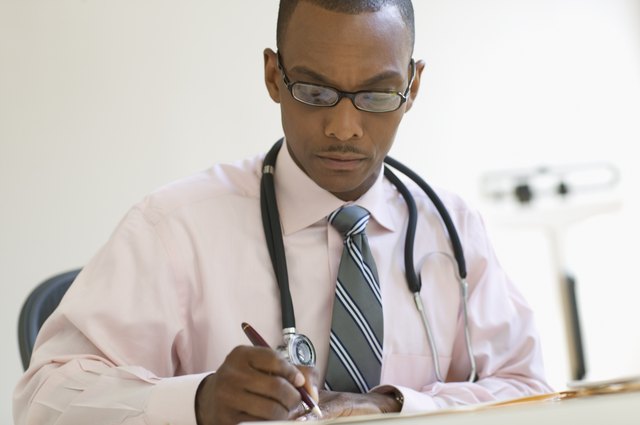 credit: Jose Luis Pelaez Inc../Blend Images/Getty Images
What It's For
As the name suggests, the attending physician statement is a form provided by your insurer that your doctor fills out to attest to your health. Life insurance companies may use this to assess the risk of insuring you. The information on the form can be used to determine if you can be insured and the premiums you will pay. According to the book "Invest in Your Life" by Ronald M. Roth and Bruce Weinstein, an APS form is normally completed by a doctor following a medical exam.
APS Contents
An APS form contains a rundown of medical conditions and symptoms. Your physician will detail any diagnoses, including the International Classification of Diseases code. Your doctor will also provide details about your current treatment plan, if applicable, including information about what medications you have been prescribed and any plans for surgery. Your doctor will also tell the insurer if you are pregnant. The APS form includes questions for your doctor to answer about both your psychological and physical abilities. The APS asks doctors to include objective documents attesting to your health, such as office notes, X-rays and lab test results.