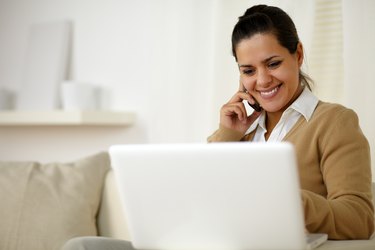 Your Medicaid card displays your name and Medicaid identification number. If you want to change the address associated with your Medicaid card and benefits, you'll need to make the changes through your local Medicaid office, either over the phone, online or in person. Any changes to your case must be reported within 10 days. Depending on your state, you might not receive a new Medicaid card unless you report it lost or stolen.
By Phone
Contact your local Medicaid office by phone to report the address change. You don't necessarily need to speak to your assigned case worker. Any agent or representative can verify your identity and make the changes to your account. The Centers for Medicare and Medicaid Services (CMS.gov) provides a "Contacts Database" that allows you to search for your local office's phone number.
Online
If your state features an e-benefits website, you can log into your account to make changes to your case. Look for a "report a change" option. If you don't currently have an account, you'll need to select the option "register for a new account," which is usually found on the login page. You'll need to enter your name and create a username and password. Depending on your state, you may also need to enter your Social Security number or case number to access your benefits and case information for the first time.
In Person
If you live near a Medicaid office, go there in person to make the address change. Bring a photo ID along to help the caseworker confirm your identity. You typically need to complete and sign a "Change of Address" form to make the change.
Tip

If you move out of state, you can't transfer your benefits to another state. Although Medicaid is a federal program, each state administers Medicaid locally. You'll need to close your case before applying for Medicaid in your new state. You can request case closure by phone or online.