When an emergency presents itself, and you don't have the required cash on hand, you can use your credit card to obtain the needed cash. If you need to pay someone for services rendered, and that person doesn't accept credit cards, you can still utilize your card to obtain cash to pay the bill. This is done by taking out a cash advance. But before you take cash from your credit card account, it's important to understand the terms and conditions.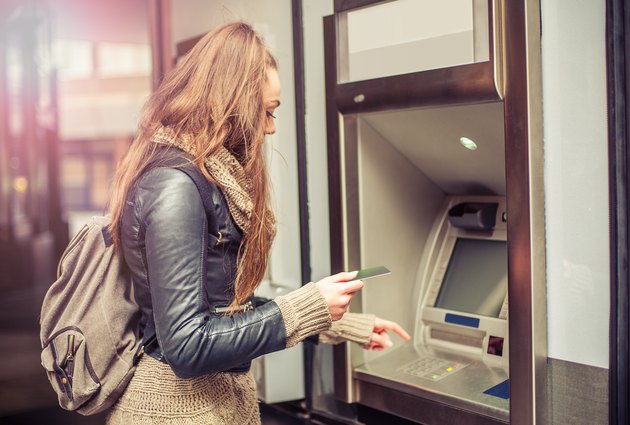 Cash Advance Terms and Conditions
Most credit card companies charge a fee for cash advances. This is either a set dollar amount or a percentage of the amount of cash that you withdraw. The annual percentage rate, or APR, you'll be assessed for borrowing that money is higher than that for the typical charges you incur when using the card. It is common practice for the issuing company to begin charging interest immediately, as opposed to the 30 days most credit card holders have to pay off the balance for regular purchases. Always take the time to review your credit card company's terms and conditions; if the terms are acceptable to you, go ahead and take out the cash advance.
Cash Advance Checks
Contact your credit card company using the customer service phone number on the back of the card to request cash access checks. Be prepared to provide account information and also personal information you listed on your application so the agent can verify you are indeed the owner of the account. Checks will be mailed to your home, and you can fill them out just like you would checks from your regular bank checking account.
Cash Advances Via an ATM
If you don't have time to wait for checks to arrive in the mail, head to a participating bank or credit union ATM to withdraw cash from your credit card. This method requires that you have a PIN set up, so be sure to contact customer service ahead of time if you don't already have one. When you get to the ATM, simply insert your credit card and follow the prompts.
Cash Advances Through Grocery Stores
Another option if you only need a small amount of cash is to make a purchase at a grocery store and respond "yes" when the cashier asks if you'd like cash back. Let the employee know how much money you need and then enter your PIN on the payment device when prompted. Your credit card will be charged for the grocery purchase, plus the amount of the cash advance.
Cash Advance Via Direct Deposit
Online banking is a great tool for moving cash from your credit card to your checking account. The process typically takes between one and three days to complete, but you don't have to leave the comfort of your home. To do this, log in to your credit card account management page and select the cash advance option. Enter your checking account information and the amount you'd like to transfer. Once you agree to the terms, simply click Submit.