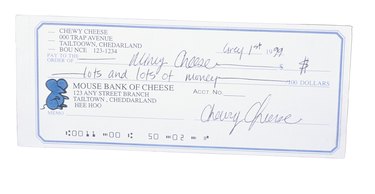 Despite the fact that you're probably writing few paper checks each year, it's not uncommon to get your monthly paper bank statement – or log in to your account – review your transactions and see a check number and amount you don't recognize. Depending on your bank and what preferences you've set up, you can easily see a copy of checks you wrote if they're not more than six months old.
In other cases, you might have to pay a fee, request a search and wait a week or more. Understanding how check imaging works for bank accounts will help you get the information you want in the fastest manner possible.
What Affects Your Options
Your ability to see your checks and obtain a copy of checks depends on your bank's policies, the type of checking account you have, the different types of checks you write and what preferences you've set up. For example, with some checking accounts, you can just log in, go to your transactions and see a check image. With other accounts, you need to either pay a fee per image or month, or meet certain balance minimums.
For example, Bank of America charges a $3 monthly check-imaging fee on its basic checking account if you want to get images of your checks on the paper statements sent to your home. If you opt for one of their upgraded checking accounts (which might require that you keep a minimum balance of $3,000 per month), check imaging is free.
The quickest way to get a copy of a paper check you deposited via an ATM, mobile phone, branch deposit or mail-in transaction is to call your bank and ask how to get a copy, according to MyBankTracker.com. When you call the bank (look for a customer service number on the back of your debit card or on your bank statement), ask for an agent or associate.
Explain what you want and the rep will give you step-by-step instructions for getting a copy. The rep won't be able to tell you who your check was written to or send you an email or text with the image – that would encourage countless phone calls to the bank each day from customers asking, "Can you tell me who I wrote check number 1033 to?"
The rep will most likely have to put in a request to have the bank pull your account information, find the check, scan it and mail it to you. This will have to be done manually if the check is more than six months or one year old, depending on your bank. You will often have to pay a fee for this service.
In other cases, depending on what you've set up for your bank preferences, the rep will walk you through the process of getting your image online immediately.
Check Your Paper Statement
If you have opted to receive monthly paper statements, images of your checks might appear on the last page of the statement. In some cases, this is a blank page, other than the check image or images. Your bank will either provide this service for free, or you will have to arrange to have this service added to your account for an extra charge.
If you have an online account for your checking account, log in and navigate to your transactions page. Scroll to the transaction you want to see and click on any highlighted link to see if it opens to show the check image.
If you don't have an online account, it only takes a few minutes to set one up and you don't have to wait for it to be activated. Navigate to your bank's web page and click on the link to create an account. Follow the prompts. You'll need information such as your checking account and routing number, Social Security number, street address or zip code and phone number.
Your bank might provide a tutorial for getting check images. For example, U.S. Bank provides step-by-step instructions for finding a copy of checks.
Use the Mobile Banking App
Large banks, and even some local banks, offer a mobile banking app. Download the app to your phone, set up your account (similar to the process of setting up an online account described above), access your account from the app, then go to your transactions page.
With online banking accounts and mobile accounts, there's usually no separate button for "See check images." You will almost always need to go to your transactions.
Stop by a branch of your bank and ask to see a customer service representative. Let the bank greeter know what you want. The rep might be able to help access your account and print out a copy of the check. In most cases, reps can't actually go into your accounts, but they can help you perform the steps on your phone while you're there in the office. This is why it's better to ask for a rep than to wait in line for a teller to help you.
The longest process is to write to your bank for a copy of checks. Call first to get the correct address and find out what the process and fees are. Older checks are often archived and stored in a central location, so banks have to contact that location to request a physical search for the check. This is why there's a fee and it can take a week or more to get you an image of your check.