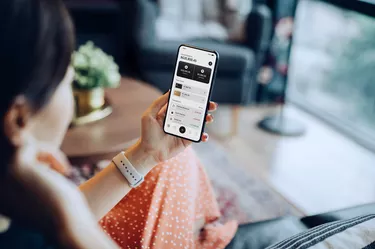 Disputes can happen any time money changes hands. It might seem farfetched that you'd ever have to prove that you deposited a check, but you might find yourself in a position where you want to substantiate who signed it, when it was deposited or how much it was made out for. You need to look at a copy of a check one more time.
It doesn't have to be a big challenge in this age of technology, but you might find that you have to pay a visit to your bank.
Your easiest option is to take advantage of online banking. Log in to your bank account, assuming your financial institution provides internet banking. Your account page should include a transactions tab where you can look for the deposit.
Click on it. It's that simple. This will result in the image of a personal check, at least in a perfect world. But you may only be able to access a copy of your deposit slip. U.S. Bank warns that this is the case with its online site if you're looking for a copy of a paper check that you deposited at a branch.
Try Your Bank's Mobile App
Using your mobile app is a similar alternative. Most financial institutions offer mobile banking apps, so you can easily download yours to your phone if you haven't done so already. Then just look for a transactions tab as you would online.
Not all mobile apps are set up to provide this function, however. U.S. Bank also warns that you can get a copy of your deposit slip online, but not on its mobile app. But the Regions Bank app provides you with a special icon that you can use to view both checks you've written and deposit items as well.
You'll have to call or visit your bank or credit union if it's not set up to help you out electronically, or if you can't seem to access what you need online or on your mobile app. Simply ask what its procedure is for getting your hands on an image of a canceled check you deposited.
The bank can most likely provide you with a copy of the check, but there might be a delay of a few business days. It will have to be ordered, then sent to you by one means or another, perhaps even a paper copy in the mail. You'll almost certainly have to provide proof of ID, as well as the date you made the deposit and the check's amount.
Do Deposited Check Images Expire?
You might have only limited time to work through your options for getting a copy of a check you deposited. But the deadlines don't tend to be prohibitive, assuming that you realize you need the copy in relatively short order, not a year or so later.
U.S. Bank's online option becomes a bit trickier if you made the deposit more than ‌90 days‌ ago, but it's still possible to access a copy assuming that you didn't deposit a paper check at a branch. Santander Bank's website gives you up to ‌two years‌.
A Mobile Deposit Option Going Forward
Of course, the best solution is to sidestep this problem entirely. Avoid taking that paper check to a branch in the first place. Set yourself up for mobile deposits with your mobile app. You can make deposits using this technology, too. This way, you can keep your original check and file it for any future potential disputes.
Just endorse the check as you normally would, then access your checking account on your app. Use the app to take a picture so you have images of the front and back of the check you want to deposit. Be sure to capture all the information on the front, including the check's bank routing number and the account number. The site should easily guide you through the necessary steps. Click on "submit" or a similar directive. Bank of America says that it will give you immediate confirmation that your deposit has been received.
Your paper check will still be there in your hand after you complete the process. You're not required to turn it over to your bank later. You won't have to track down a copy of it at some future point in time because you already have it.