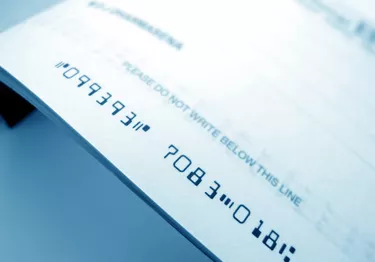 There was a time when a follow-up task was necessary after you wrote a check. You then had to transfer all the details of that check into your checkbook register, at least if you wanted to keep accurate records as to where your money was going. You always had the check stub with the details for record keeping and tax records. Then duplicate checks came along. They conveniently save all that information for you on as copies of checks on a carbon copy in your check register.
These copies can come in handy because many banks no longer provide you with your canceled, paid checks along with your monthly bank statement. Guidance for saving them isn't much different from how long you might have kept those canceled checks back in the old days.
How Long Should You Store Carbon Copies?
How long you should keep that checkbook and its carbon copies depends on who you wrote the check to and why. The National Cooperative Extension recommends holding on to your checkbook/register at least until you get around to balancing your account to make sure that you and your banking institution agree on how much money you have there. Otherwise, a general rule of thumb is about one year, just in case an issue crops up, such as someone claiming you never paid a debt.
But the FDIC warns that you should keep records of your tax payments and what you've paid toward tax deductions and credits you've claimed for up to seven years. The IRS typically has six years to review tax returns and assess additional tax, and you should add a few months to this deadline for delays in the process.
How Carbon Copy Checks Work
A duplicate check looks exactly like a regular paper check at first glance. The difference is that it's attached to and sits atop another check in your checkbook. A piece of carbon is tucked between them. In either case, everything you write on the check is transferred to that second check beneath it.
You've now created your own record of that written check, including who you made it out to, the amount and the date you wrote it. The check number and other information from the top check are already printed on the bottom carbon copy check as well.
The carbon copy should remain in your checkbook after you remove the top check and send it on its way, so storing it presents no additional challenges. It's part of your checkbook. Keep it wherever you would normally keep your checkbook, in a desk drawer or filing cabinet or even under your mattress.
Alternatives to Carbon Copy Checks
The idea of holding on to anything in paper form might make you roll your eyes. You have some options if the carbon-copy process doesn't appeal to you.
All the same information is more or less captured for you and available via the internet and online banking if your bank or credit union provides you with an online checking account. You can typically download information associated with a paper check you wrote, at least for a period of time. The information will "age out" of the system eventually, but maybe not until you might have gotten around to throwing those carbon paper copies out.
You can also order copies of your canceled checks from your bank or credit union. HelpWithMyBank.gov indicates that institutions are required to retain copies for five years, even if they don't obligingly send them to you with your bank statement, although checks written for $100 or less are exempt from this rule. Another possibility is to use a monthly statement from your bank as proof of payment.
You have some options if the carbon-copy process doesn't appeal to you.
Precautions Against Identity Theft
Your bank has your back, at least to some extent, when it comes to preventing identity theft and fraud. The information that transfers to your carbon copy when you write a check does not include your signature, according to SoFi. No one can copy or trace it if your carbon copy checks should fall into the wrong hands.
This isn't to say that you shouldn't also take steps to protect yourself. You'll want to mercilessly shred those carbon copies before you dispose of them, particularly the sections that include your bank account number or other account numbers and information that you might have scribbled on the memo line.