While opening up a checking account can be advantageous when paying bills or opening a business, it can also prove stressful if there is not enough money in your account to cover transactions. In such an instance, a check can bounce, causing both embarrassment and misunderstanding, particularly in a case where a check has bounced erroneously. An example would be a check that has bounced after clearing the bank.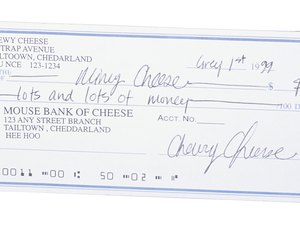 The Basics
The simple answer is yes, a check can bounce after it has been cleared by the bank. According to the Federal Trade Commission's website, Ftc.gov, if you deposit a check into the bank it does not mean that the check is good. This is particularly true of checks coming from sources such as foreign lotteries, foreign auction sites and scam artists.
A Closer Look
Misconceptions about how and when checks clear can lead to checks bouncing after they have cleared the bank. Two verifications must take place before money is actually available. However, because the first verification can indicate that a check has cleared, it is easy for checking account users to begin authorizing transactions based on that information. Accordingly, a check may bounce because the bank then has to verify whether the check is a good check.
Foreign Lottery Scam
The Federal Trade Commission outlines a scenario in which a check can bounce after it has cleared. This scenario involves a foreign lottery system that proclaims you a winner, sends you a check to deposit and asks that you wire money to cover the taxes and applicable fees. Because the check is fake, your bank will discover that it is counterfeit, resulting in the check bouncing. Once the check bounces, you are responsible for refunding the bank. In some cases, individuals can be prosecuted for failure to repay the bank.
What to Do
The Federal Trade Commission advises against paying for any gifts or entering into foreign lottery scams since these are likely the reasons that a check would bounce after clearing. The commission also recommends that you refrain from wiring money to strangers. In the event you have a check bounce after clearing due to scams, you are advised to contact your U.S. Postal Service Inspection and your local attorney general's offices (see Resources).