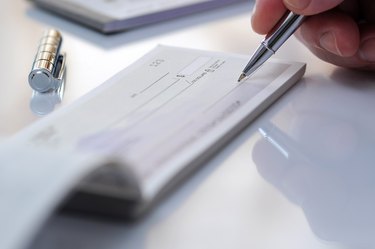 Duplicate checks are special checks that can be ordered from banks or other retailers of personal checks. They have the advantage of leaving you with an exact and immediate copy of every check you write.
Use
When you write a check in a duplicate checkbook, a carbonless copy of the check will be made directly behind it. When you tear out the check, your copy remains in your checkbook.
Benefits
Duplicate checks provide a backup copy of every check you write, which is useful if you forget to enter it in your checkbook register. They are also kept in order neatly because they stay bound in the checkbook.
Security
Your banking information stays secure because the duplicate check that you keep does not contain your bank account number.
Types
Duplicate checks come in many different styles. Most check designs can be ordered either as single checks or as duplicate checks, and even sheets of business checks can be ordered as duplicates.
Cost
Typically, duplicate checks will cost about 30 to 50 percent more than single checks. This is both because of a higher price per box of checks and because most duplicate checks come with fewer checks per box.