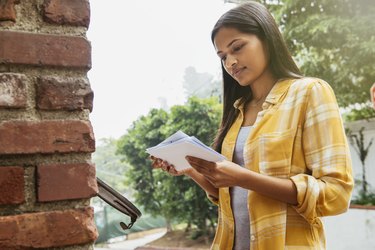 Certified mail from the United States Postal Service (USPS) differs from Priority Mail because it is assigned a tracking number from the post office, and the sender gets a delivery confirmation, says Stamps.com. In many cases, the recipient must sign to confirm proof of delivery. It's the best way to send sensitive and important documents.
What happens if your mail service person tries to deliver certified mail to you and you don't want it? Can you reject it? Learn how to reject certified mail from your local post office and find out what you should do if you miss a delivery attempt or need USPS certified mail yourself.
How to Reject Certified Mail or a Certified Letter
No one can force an addressee to accept first-class mail or certified mail. If you don't want it, you have a couple of options. First, you don't have to answer the door for the letter carrier. According to the team at PostGrid, if you are not home, they may leave a slip indicating they attempted delivery. Still, this is not always the best solution because the delivery service will typically make another attempt to deliver the item before returning it to the sender.
Instead, you can tell the mail carrier from the U.S. Postal Service that you don't want the mail. By failing to collect the recipient's signature, they won't attempt redelivery and will send it to the return address.
If the certified mail receipt does not require a signature and your mail carrier leaves it for you, then you'll need to return it to the post office and tell them you want the delivery status reversed and the piece of mail returned to the sender.
What Happens When You Reject Certified Mail?
You don't have to offer any explanation to reject certified mail. The contents are returned to the sender. However, if the package contained an essential notice of any kind, such as for an eviction, the letter will still be considered a sufficient attempt to notify you.
Even though you can reject the mail, you can't open it before you do so. To open the package or see more information about the contents, you'll need to accept it and sign for it.
How to Claim Certified Mail
If someone sends you a certified mail letter that requires a signature for delivery, your mail carrier will not leave it for you. Because this type of mail comes with a certified mail service, they usually cannot make a certified mail delivery without a recipient.
In some cases, your post office may attempt redelivery. In others, you'll have to go to the post office in person to claim the certified mail. The carrier will leave a receipt informing you that they attempted to deliver and could not. The receipt will explain how to claim your mail.
If you're expecting a certified mail delivery, you can always ask a family member to receive it and sign for it. Unless the sender requires your signature specifically, the other person's signature will work.
If you have a PO Box and you get your mail at the post office, it will typically leave a notice in your box, and you can pick up the certified letter at the counter.
How to Request Delivery Confirmation
There are many things that you may want to send by certified mail. Standard items include important documents, like green cards, official court documents, checks and money orders and much more.
To send something by certified mail or request proof of mailing and to request an electronic return receipt, visit your local post office. You can also schedule mail pickups and pay for services online at usps.com. You can find a complete list of USPS services and guides on accessing them.