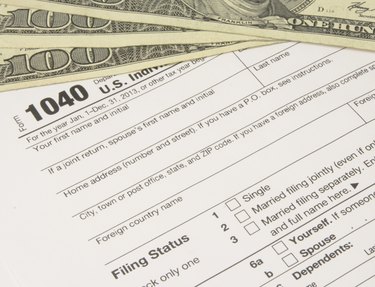 Millions of taxpayers file their federal tax returns electronically, but you may prefer to use good old snail mail. If you use tax preparation software, print out a paper copy of your return. When you need blank forms, you can download and print them from the Internal Revenue Service website. Unless you file an extension, the return must be postmarked by midnight, April 15, or midnight of the first business day after the 15th if it falls on a weekend.
Requirements to Mail Tax Returns
Review paper returns before mailing. Check to see that you've completed everything, including the blanks for your name, address, Social Security number and the same information for your spouse when it's a joint return. Sign the return. The return isn't valid unless it has your signature and your spouse's when filing jointly. Attach all required IRS forms and documents, such as copies of W-2 or 1099 forms. Make photocopies of everything before mailing. Address the envelope to the IRS office provided on your tax return instructions. If you aren't sure, you can look up the address on the IRS website. Tax returns may require more postage than a typical letter. Ask the post office to weigh the envelope and affix the right amount of postage.