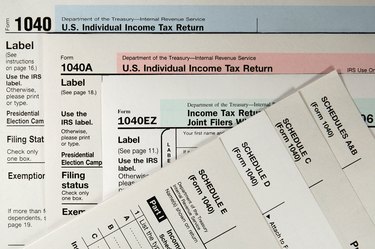 Convenience and quicker refunds are some of the fruits of electronically filed tax returns. If you take the paper route, you must adhere to Internal Revenue Service directions for attaching Forms W-2.
Use the Right Copy
Your employer will provide you three or four copies of your W-2. Attach the one that says "Copy B - To Be Filed With Employee's FEDERAL Tax Return." "Copy 2" of the W-2 goes with your state tax return and city or county return if you face a local income tax. The IRS advises that you keep your Copy C for three years, or until you start receiving Social Security benefits so you can answer any questions about what you were paid in a given year.
The Right Placement
Attach your W-2 to the front of the return at the line on which you report your wages and salary -- Line 7 on Form 1040 or Form 1040A and Line 1 on Form 1040EZ. The IRS's instructions don't specify a method, but stapling the W-2 to the return reduces the risk that it will be lost or separated from the return. Do not staple the W-2 or anything else to the upper-right hand corner of the first page, an area that is for the IRS's use only.