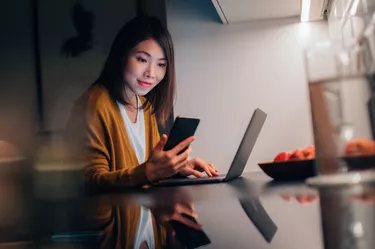 Logging in to Bank of America's online banking systems is easy and secure, once you set up your account. You can use the same Bank of America login for different accounts by linking them. Just follow the step-by-step instructions for setting up your account, then your Bank of America login procedure will be a simple one- or two-step process, depending on how you choose to have your browser or phone app save your password.
The first step in using Bank of America online is to set up your account. Visit the Bank of America website at www.BankofAmerica.com. Most browsers will find the site using just BankofAmerica.com. Look for the "Enroll" link and click on it. You'll be asked to provide your card or account number and your Social Security Number or Tax Identification Number. You provided Bank of America one of these two ID numbers when you opened your account.
Follow the rest of the directions for setting up your account. This will include setting up challenge questions (such as your first pet's name).
You will be asked to create a username (or online ID) and password for your account and provide an email address. Follow the directions to create your account.
Logging Into Your Account
Once your account is created, you might be asked to log in to access your information for the first time. You will be asked to choose a security preference for the device you're using. You might ask to be sent a security code each time you log in (or anyone attempts to log in). The code will be sent to your phone or email address.
Your browser might ask you if you want to save your username for future use. This will allow you to login in the future by just entering your password (your online ID will be displayed in the appropriate box, already filled in). You can also click on Bank of America's "Save Online ID" link and the website will pre-fill your ID each time you return using that browser. You'll need to click on this option each time you use a new browser if you want to activate this feature for that browser.
Each time you visit the Bank of America online website in the future, you'll simply enter your online ID and password, or just your password if you saved your online ID in your browser.
Don't use the "Save Online ID" feature if you are logging in from a computer other than your own – even your work computer. Don't save your online ID on your phone if you haven't password-protected your phone. Be careful each time you log in to your Bank of America account from a device other than your personal computer or phone – you will often (or always) be asked, "Do you want to save this username?" If you're not careful, you might accidentally give the device permission to save the online ID as you proceed to the next step.
While no one can hack into your account with just a username, they will at least have half the information they need. If your username or password is one you use for other accounts (such as janespassword123), hackers have your username for your other accounts, as well. Online security experts recommend changing your passwords on a regular basis, such as every 90 days.
Linking Your BOA Accounts
If you have a Bank of America checking account, auto loan, mortgage, small-business account, IRA, CD or credit card, you can link them so that you can access each one by logging in just once.
You'll need to contact Bank of America by phone, or visit a Bank of America location and have a customer service rep help you create this type of Bank of America online login access. Bank of America also uses the phrase "linking accounts" to refer to a process of linking balances of different products you have with them to help avoid monthly fees.
If you want to keep your business and personal finances completely separate, you'll need to create two Bank of America online accounts using different online IDs and passwords, tax ID numbers and any other required information.