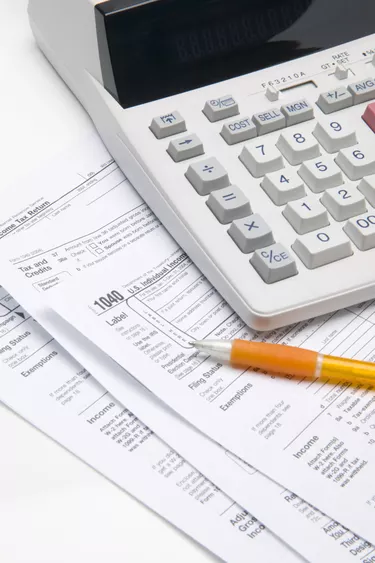 TaxACT is a popular and low-cost alternative to TurboTax. Many resist switching to TaxACT because they are worried that they will have to enter all of their data from scratch. Fortunately, there are ways of converting your data to make the transition, especially if you switch shortly after filing your most recent taxes. You have two choices for entering and saving your information with TaxACT. TaxACT Online allows you to enter and save your data on the TaxACT website. TaxACT Desktop is a software program you can download from the website, and your information is entered and saved on your computer's hard drive. Note that the instructions are slightly different for TaxACT Online and TaxACT Desktop.
Create a PDF of the Old Data
Step 1
Navigate to the Turbo Tax website (see Resources.) Sign in to your account.
Step 2
Select the "Print & File" tab followed by the "Print/Save for Your Records" submenu.
Step 3
Click the "Plus" sign to show the "Advanced Options." Choose "My tax return plus all worksheets for my records." Click "Save," and a new box will open that asks you to save the file on your computer. Click "Save" again. Alternatively, if you have the software version of TurboTax, just choose "File" followed by "Save as PDF."
Transfer Data from PDF to TaxACT
Step 1
Select "Import" on the "Basic Info" screen. Open TaxACT Desktop and click "File." Choose "Import" and "TaxACT [Previous Year] Return." Please note that you can only import if you are using TaxACT Deluxe.
Step 2
Click "Continue Without Importing" when the new screen opens up. At this point, you are telling the program that you have a non-TaxACT file to import.
Step 3
Choose "Yes" on the next screen to answer the question, "Do you have a PDF copy of your [previous year] tax return?"
Step 4
Click "Browse" in the new window, and find the file you saved from TurboTax. Click on the saved TurboTax file, and then click "Import Last Year's Return." Another window will appear with your basic information, including your name, address, occupation and social security number. Click "Done" after you have verified all of the information.
Tip
TaxACT Online and TaxACT Desktop offer two levels of service: Basic and Deluxe. Basic service is free. The Deluxe service requires you to pay a fee, but only when you file taxes. There is no cost to try out the Deluxe service.
Warning
TaxACT will only transfer basic information, so much of your other data, like employer information, will need to be re-entered.