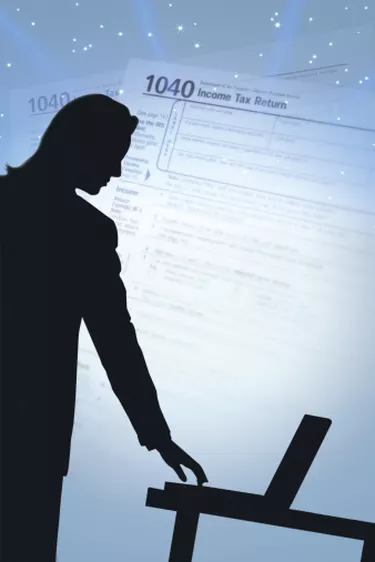 TaxCut is a tax preparation software created every year by H&R Block. When an income tax return is created and filed with TaxCut software, the return preparer has the opportunity to both save and print a copy of the completed income tax return. When saving the file, the preparer chooses to create either a PDF file to retain in the computer or a TaxCut software-specific file. The method used to save the file determines the process used to print tax forms from the old software version.
Print Tax Forms From a PDF TaxCut File
Step 1
Open the computer folder containing your tax documents from the tax year you want to access.
Step 2
Double-click to open your TaxCut PDF file in Adobe Reader. Even if you only need one form, you must open up the entire file.
Step 3
Click "File" followed by "Print" after the document opens. Click the bubble for "All pages" if you want to print all of your tax forms; otherwise, specify your page number selection. Click "OK" to print.
Print Tax Forms From a TaxCut Software-Specific File
Step 1
Double-click on the TaxCut file in your tax return folder. This action launches TaxCut on your computer if it is still installed.
Step 2
Reinstall the TaxCut software for the tax year the forms you need fall under if the file does not automatically open. For example, if you need a copy of your Schedule C form for tax year 2006, reinstall the TaxCut software for 2006. Open the program when installation completes if it does not automatically launch.
Step 3
Click "File" followed by "Open Saved Return," and navigate to the computer folder containing your tax file. Double-click on the file.
Step 4
Click "File" followed by "Print." Click "Selected forms," and then choose either the "All forms" of "My forms" option. If you select "My forms," choose the individual forms you want to print.
Tip
Current TaxCut software cannot open and print a TaxCut form created with a prior year's software. If you misplaced your software, H&R Block, the owner of TaxCut does offer previous versions for a fee. The customer service division handles these requests.
PDF files open with Adobe Reader. This program is available for a free download through Adobe if it is not already installed on your computer.