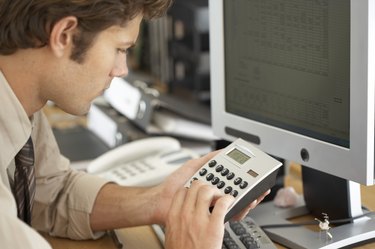 TurboTax, by Intuit, is tax filing tool available online. On the TurboTax website, you can complete and file simple federal tax returns for free (there is a fee for more complex and state returns), and the process is laid out step by step. All you need are your tax papers from your employer(s), any pertinent financial records and an Internet connection. After you print out your completed taxes, or submit them electronically, you do not even have to store a hard copy in your home or on a file on your computer. TurboTax keeps all your past tax filing records on their website. The file is stored securely on your account, for only your eyes to see.
Step 1
Go to the TurboTax website.
Step 2
Click "Sign In" at the top, right of the web browser. A drop-down menu of activity options will appear.
Step 3
Select "Access Prior-Year Returns" and log in to your account. You will be brought to "My Account Home: Prior-Year Returns."
Step 4
Click the portable document file link that contains your email address and the tax-return link. Select the year you want to view. The PDF will download.
Step 5
Open the PDF file with Adobe Reader after the download completes to view the file.
Things You'll Need
TurboTax account

Adobe Reader