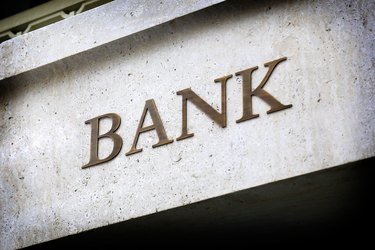 Some Relevant Bank of America Facts
The Nearest U.S. Branch or ATM
One easy way to find the nearest Bank of America location in the U.S. is to go to the bank's online locator and enter either your ZIP code, city or state. The locator gives the total number of Bank of America sites within five miles of the area you select. If you type in "Altadena, California," for example, the locator presents 50 options, with the closest listed first.
The locator indicates whether the BOA is a branch, an ATM or both. It gives its address, the distance to it and driving directions. It also indicates branch and ATM days and hours of operation. Most ATM locations are open 24 hours, although a few inside office buildings are not. The locator also provides an apparently local phone number. In most cases, however, when you click on that number you'll reach a national customer service representative. If you need to speak to someone at a particular branch, the national customer service representative can transfer you.
International Operations
The Bank of America has no international retail branches. They do have relationships with 10 large foreign banks on every continent except the Antarctic so its customers can access some bank functions during their time abroad. To identify these banks, click on "international Locations" at the left-hand side of the locator page.
The available functions vary from bank to bank, but usually allow you to purchase of up to $10,000 in foreign currency each month, access exchange rate information, and calculate your currency's value before exchanging money.
At some of these foreign banks, you may also have access to your domestic Bank of America savings account and be able to transfer money and make account inquiries.
A Cautionary Note about Fees Abroad
The bank notes that its global alliances with other major international banks can save you a $5 transaction fee at ATMS of banks in the alliance. However, in 2013, Bank of America also began charging its customers a 3 percent foreign transaction fee on international withdrawals.