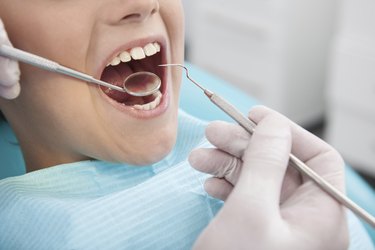 CareCredit, issued by GE Capital Retail Bank, works like a credit card but can be used for health care procedures only, including dental work. CareCredit provides an alternative for those who cannot afford to pay an entire dental bill at once.
How Care Credit Works
CareCredit can be used like a credit card at provider offices nationwide, according to the company. Covered procedures can be paid for over time. Periodically, the company offers promotions that can save you money.
Who Accepts CareCredit
Enrollment in the CareCredit program is entirely dependent on the provider. Find a provider's list at CareCredit.com, or call your doctor or dentist and ask if it participates in the program.
What CareCredit Covers
In addition to dental work, CareCredit covers a variety of procedures, including Lasik surgery and vision care, veterinary services, cosmetic procedures, hearing care, and some surgeries. These must be performed by a participating provider.
How to Apply for CareCredit
Apply for CareCredit at CareCredit.com, where you can submit a secure online application and get instant results. You must specify the procedure you need when you apply. You can also download the application, print it out and take it to your provider. Most dentists and doctors who participate in the CareCredit program have applications at their offices.
Using Care Credit
The Care Credit card can be used immediately upon approval, even before the card arrives in the mail. For dental work or other medical procedures, just bring the Care Credit approval number to the participating provider.