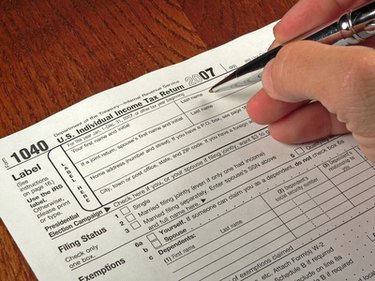 It is important to notify the IRS of a name change because it will send be a red flag on your tax return if the name you write down doesn't correspond with your social security number. Name changes can occur due to marriage, divorce or just the desire for a new name. As long as you have legally changed your name, there should be no issue updating the IRS with your new information, and no problems resulting from the name change when you file your taxes.
Step 1
Fill out Social Security Administration form SS-5Fs, which is an application for a Social Security card. Apply for a new card when your name has changed. Submit proof of your name change, and send an original copy of the paperwork, such as a marriage certificate. This information must contain both your previous name and your new name.
Step 2
Prove your identity by submitting identifying documents that have your previous name with one that has your new name, in addition to to the name change document. Examples of acceptable identity documents are your driver's license, passport, or state-issued non-driver identity card.
Step 3
Submit all this paperwork to the US Social Security Office. Wait until they update your file, and you will receive your new Social Security card with your new name.
Step 4
Fill out your IRS tax paperwork with your new name and Social Security number.
Tip
The IRS bases your tax returns and identity on your Social Security number, so there is no additional step needed to notify the IRS of a name change. As long as you have it changed the name on your Social Security card, you will be fine. The IRS just makes sure that the Social Security number and name given are confirmed by the Social Security Administration.