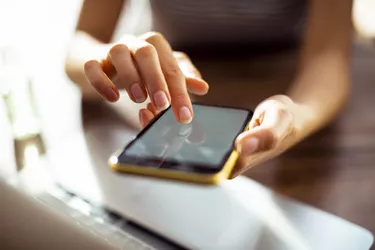 American Eagle Outfitters is a popular clothing retailer that specializes in high-quality pieces that are trending. According to Statista, the company has 1,078 storefronts across the globe. Of course, shoppers can also order from the company's website without ever leaving home. Loyal American Eagle shoppers, whether in-store or online, may have the company's credit card in order to take advantage of special deals and rewards. If you're one of those individuals, you'll need to know how to pay your balance when it comes due. One of the easiest ways to pay is by phone.
About American Eagle Credit Cards
The American Eagle credit card is called the Real Rewards Visa Credit Card and it is issued by Synchrony Bank. It works just like any other Visa credit card, but allows shoppers to earn rewards and enjoy special perks. There are three membership levels, says American Eagle, that offer between 10 and 20 points for each qualifying $1 spent in the store. Every 1,250 points results in a $5 off reward certificate.
With this card you'll enjoy:
30% off your first purchase
Free shipping and free returns
Double and quadruple points on qualifying jeans
A one-time birthday benefit between 15% and 25% off a single purchase
Pick your own sale day (once annually)
American Eagle Phone Payment
To make a payment on your card by phone, call 1-866-913-6765. It is completely free to use the company's automated system to make a payment; however, if you'd like to pay using the services of a live agent, you'll need to pay a fee. Make sure you have your account number handy when you call and enter it when prompted.
After you enter your account number, you'll need to say "Make a Payment" into the phone receiver and enter the amount you wish to pay on your keypad, as well as the account details associated with your form of payment (checking or savings account). Once the transaction has been successfully completed, you'll be given a confirmation number, which you should write down and keep for your records.
Each month, Synchrony Bank will send you a credit card statement with a payment stub attached. All you need to do is place the payment stub and your payment in the provided envelope and mail it back to the company by the due date on the stub.
If you've chosen to go paperless, you'll receive an email with your monthly statement attached. You'll need to print the payment stub out and use your own envelop to make the payment. Payments should be sent to AE Real Rewards Visa, PO Box 960013, Orlando, FL 32896-0013. The company asks that you write your credit card account number in the memo section of your check or money order.
There's also the option to pay online by visiting the Real Rewards login page. You can click the blue "Pay as Guest" tab and enter your account number, the last four digits of your Social Security number and your town's zip code. Afterward, follow the prompts to enter your payment amount and the account details needed to transfer the funds. If you'd like to create an account, you can register with Synchrony Bank on the login page instead. Then simply log in using your created username and password and click "Pay Online." Follow the prompts to make your payment.
On the Real Rewards account login page, you'll find a handy chat feature on the top right-hand corner of your screen. If you lose the company's payment phone number or address, or you need additional help to make a payment, you can click on this black tab and type your question in the chatbox. The virtual assistant will respond in seconds and get you the information you need to ensure your payment isn't late.