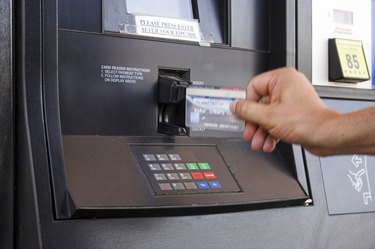 Gasoline gift cards make welcome gifts for commuters, students away at school, vacationers and just about anyone else who drives. Most gasoline retailers sell gift cards at their gas stations and other retail locations, as well as online or over the phone.
Purchasing Online or by Phone
On the gasoline company's main website, click the link for payment options, gift cards or payment cards. After choosing the amount for the gift card and entering payment information, you can enter a different shipping address, if desired. If you prefer to make your purchase by phone, the gift card page lists the telephone number for gift card sales. Most companies also have a dedicated phone number for purchasing gas gift cards in bulk.
Purchasing at a Retail Location
Most major retailers sell gasoline gift cards alongside other types of gift cards on a display. When you pay for the card at the register, tell the cashier the amount you want to add to the balance. You'll pay that amount plus the card fee -- about $5 as of publication. The recipient will have to activate the card by telephone or online before he can use it.
Choosing the Right Gas Card
When deciding which gas gift card to purchase, consider the recipient's convenience. Choose cards he can use at gas stations near his home or work, or that are on his route to and from work. Many major brands have online locator pages to help you find nearby gas stations.