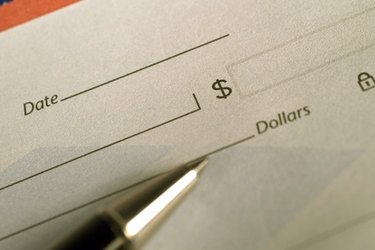 Wells Fargo makes money orders up to $1,000 available for purchase by their customers. A money order can be cashed like a check but doesn't show any account numbers or financial information about you other than your name, the name of the bank and your address information. You pay for the money order when you purchase it. Only Wells Fargo customers can purchase Wells Fargo money orders. The money can be withdrawn from your Wells Fargo account or you can pay with cash.
Step 1
Write full name of the recipient business or person in the "Pay to the Order Of" line.
Step 2
Write the address of the recipient in the address line. If you do not know the address, it's okay to leave this blank.
Step 3
Write your name, address and account number, if applicable, on the memo line.
Step 5
Write down the name of the recipient, the reason for the money order and the amount of the money order on the section of the money order separated by a perforation. Remove this section at the perforation and keep the stub with the information as your receipt.