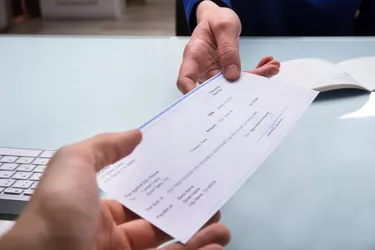 Many individuals and companies require money orders because the funds are prepaid and therefore guaranteed. The writers at Wells Fargo specify that their customers can purchase money orders for $5 each at any of their locations; you also have Wells Fargo money order drive-thru purchasing options. The monetary limit for each one is ​$1,000​. If you need ​five $1,000​ money orders, you'll need to hand over ​$5,025​.
Wells Fargo Money Order Deposits
Wells Fargo customers can purchase and deposit money orders at the branch locations, as with other banks. The experts at Forbes explain that filling out the forms isn't complicated, but providers use their own documents and they can look different. You'll need to enter the recipient's (payee) name where it says "Pay to," writing clearly and using ink. The payee's address also has to go in there, and it can be a residence or business. Then, you need to enter your name after "from" or "purchaser," along with your address.
If there's a memo field, you can write the purpose for the money order; sign your name when finished. Put in the payee's account number if you're using the money order to pay a bill. Proofread your writing and pay the bank representative; you'll also have to pay a small fee. If you're completing a Wells Fargo money order deposit, it's just like depositing a check: you'll need to have a valid account and show identification. Some banks don't allow money order deposits, but they will let customers cash them first and then make the deposits.
If you're wondering how to fill in a check for a Wells Fargo account, the experts at Business Insider detail the needed steps and provide a check writing example: add the date first, making sure that you have the right day and year. After the words "pay to the order of," write the payee's name clearly and legibly. In the box on the right after the $ sign, write the numerical amount. Below that, write the numerical amount in words, making sure both match. Sign the check on the bottom right, and if you need to make a notation (like your utility bill account number), write it on the bottom left after the word "for" or "memo."
Account-holders can get Wells Fargo checks at their locations by calling 1-800-869-3557 or by ordering them online, and the pricing varies depending on the type of checks ordered. To save money, you can go online and order them from third-party check retailers, such as Checks.com, Checks Unlimited and Walmart. You can't go to the Wells Fargo website and print checks online.
Wells Fargo Customer Service
The Wells Fargo Customer Service page has information for personal, business and commercial accounts and provides quick answers to common questions. Some of the most often asked include how to request a stop payment order, how to find routing and account numbers, the specifics for creating a new password and the fastest way to report suspected fraud. You can also close consumer deposit accounts and learn about their debit cards. There's also information about fees that apply to cashier's checks, money orders, overdrafts and unpaid checks.
Wells Fargo also has a mobile app that makes it easy to check your balances, transfer money and make deposits. Their website and mobile app work with Zelle, a U.S.-based digital payment network that is in the same category as Venmo. You needn't be a Wells Fargo customer to send and receive money through Zelle, and the people who use it with you don't have to be, either.