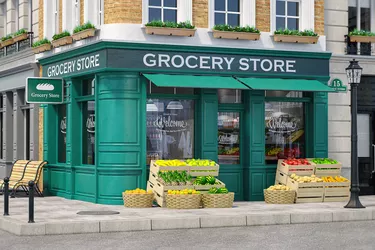 If you've received a physical payroll check and don't have a bank account, don't worry – there are many grocery stores, drugstores and convenience stores that will cash checks. There may be a fee for the service (depending on the location), and you may have an upper limit on the value of the check. However, cashing a check at a grocery, drug or convenience store is a convenient way to get cash on hand when you don't have access to an account to make a deposit.
Grocery Stores That Cash Checks
Walmart, one of the country's largest retailers, will cash several different kinds of checks: payroll checks, pre-printed checks such as those from the government, tax or 401(k) checks, cashier's checks and a few different kinds of money orders. Walmart will only cash out two-person personal checks that are ​$200​ or less. However, with all other checks, Walmart will cash out ​up to $5,000​; during tax refund season (January through April), they will accept ​up to $7,500​. There is a fee of ​$4​ for checks ​under $1,000​ and a maximum fee of ​$8​ for checks that are ​greater than $1,000​. Other fees may apply to other kinds of cash-out transactions.
Kroger, the nation's largest grocery chain, will also cash a number of different kinds of checks. Kroger also lets you cash out payroll checks ​up to $5,000​. Checks ​$2,000 or less​ require ​a $3 fee​; checks ​between $2,000 and $5,000​ see fees ​starting at $5.50​. Kroger also owns stores that operate under different names (such as Fred Meyer and Smith's); these places follow the same check-cashing policy.
Many other large convenience, drug and grocery stores will cash certain kinds of checks for a small fee. These include common grocery chains like Food Lion, Giant Eagle, Publix, Safeway, Tops and Wegmans. Walgreens check cashing may also be available in your area. You should be able to discern whether or not a local shop allows check cashing using the company's website. Convenience stores that cash checks often have a sign in the window indicating such.
If you have an account with a local bank but want your payroll check in cash, you can still use any branch of that bank to cash out your check. Even if you don't have an account, some banks will cash out payroll checks for a small fee – especially if you can find the branch that issued the check itself.
Local credit unions may also cash out payroll checks for a smaller fee than a bank might charge, so make sure to check in your location. For example, Regions Bank lets you cash a number of types of checks for a percentage of its amount; payroll checks cost ​a $5 minimum​ (or ​1.5 percent​ of the check's value), while handwritten checks and other types of transactions will cost ​4 percent​ of the check's value.
While using an app won't get you cash immediately, you can use apps like PayPal to cash checks (​up to $1,000​ per day). With the PayPal app, you can simply take a picture of the front and back of your check to immediately upload it into your PayPal account.
It may take three business days to process, but this is convenient if you use PayPal for online shopping and don't have access to a bank account.