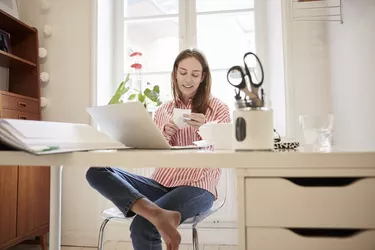 Every Wal-Mart store offers check cashing as a customer service. In a larger store, you can cash a variety of check types at the Wal-Mart Money Center or at any register. At a smaller store, you can cash a check at any register.
Personal Identification Requirements
Because Wal-Mart does not have a registration system, you'll need to provide a valid photo ID issued within the U.S. each time you cash a check. Acceptable types of identification are:
Driver's license or state-issued ID card
Military ID card
Tribal ID card
U.S. passport
Store policy requires that you endorse the check at the time you present it for cashing.
Check Types and Limits
Wal-Mart will not cash high-risk checks, such as handwritten personal checks and third-party checks, but it will accept most types of low-risk checks. These include:
Preprinted payroll checks
Government benefit checks
Tax refunds
Certified cashier's checks
Insurance settlements
Retirement disbursements
Money orders purchased at a Wal-Mart store
The per-day check-cashing limit from May through December is $5,000. To accommodate the tax refund season, the limit from January through April is $7,500.
How It Works
Some Wal-Marts use a service called Telecheck, while others use the Certegy Check Verification to authenticate all checks presented for cashing. When you present a check at the Money Center or a register, the cashier either feeds the check through a check verification reader or manually keys in the issuer's bank routing number -- a nine-digit number used to identify a financial institution -- the issuer's bank account number and the amount of the check. The reader then connects to the Telecheck or Certegy database and either approves or declines the transaction.
Tip
A decline means the Certegy database has collected negative information, such as previous bounced checks or a closed bank account, about the check issuer. Certegy does not have access to bank account balances.
Check-Cashing Fees
The fee you'll pay depends on the amount of the check. As of 2019, the fee for a check with a face value of $1,000 or less is up to $4. For checks more than $1,000, the maximum fee is $8.
Payment Options
The two options for getting your money are cash or loading funds onto a Wal-Mart MoneyCard, which is a reloadable prepaid debit card. If you load funds onto a MoneyCard, you'll still need to pay the check cashing fee, but you won't have to pay the standard $3 reload fee.
The MoneyCard works much like a bank-issued debit card, except the issuer is the Green Dot Corporation, and the card does not link to a bank account. You can use it to shop in person or online and pay bills at any location that accepts Visa.