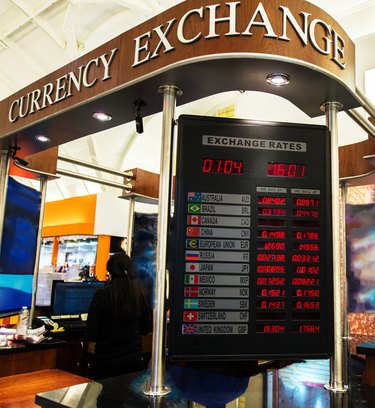 Operating since 1937, today there are over 500 Currency Exchange stores in Illinois. The company cashes more than 23 million checks a year totaling $6.7 billion in money distributed. However, the Currency Exchange doesn't cash your checks for free. There is a fee for each check cashed with them based on each location's pricing.
Currency Exchange
The Currency Exchange is an Illinois-based company that provides a variety of financial transactions to customers. Although they started out cashing checks exclusively, they now have a variety of services, including renewing and transferring Illinois license plates and registration stickers, selling Chicago Transit Authority passes and Western Union money transfers. You can also pay your bills with numerous companies at these locations, including ComEd, Comcast and the People's Gas. Currency Exchange locations are limited to the state of Illinois.
Check Cashing Fees
Each Currency Exchange is individually owned and operated, so the check cashing fees can vary from location to location. However, no matter where the location, Illinois law limits the fee based on the size of the check in question. For checks under $100, Illinois law limits the fee to no more than 1.4 percent of the check amount plus $1, and for those over $100, it's 2.25 percent of the check amount plus $1.
Concerns About Personal Checks
Depending on the location, the Currency Exchange may not handle personal checks at all. Each location can choose to decline to accept personal checks for cashing at its own discretion. Many check cashing companies do this to avoid fraudulent transactions. It's far more likely someone will write worthless checks on a personal account than a business account. It's also easier to counterfeit handwritten checks than those printed by a company.
For More Specific Information
If you're wondering how much a specific Currency Exchange location charges for check cashing or if they even accept personal checks, it's best to contact that location directly. You can use the location directory on Currency Exchange's website to locate the information about a location (see Resources). Usually there are several locations in an area, so it's possible to call around until you find a fee you're willing to pay.