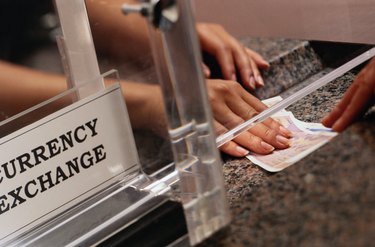 Foreign exchange rates change daily, so there will be certain times when you get more for your money when you exchange currency. Some banks offer ways to exchange currency that are more convenient or have more competitive rates than others for transaction fees. Larger banks in the United States usually are better for exchanging currency, and their services are more accessible when you travel abroad.
Citibank
Citibank offers a World Wallet® service that delivers foreign currency the next business day to your home, office or at a Citibank. The bank charges a $5 fee for delivery to your home or office, but it is free at any Citibank branch. There is a $5 fee to exchange a foreign currency back into U.S. dollars at a bank location, but if you exchange $1,000 or more at a time, the exchange is free of charge.
Bank of America
Bank of America offers online and in-person currency exchange services. Currency deliveries can be made by in the United States by Bank of America, but you must pick up orders of $1,000 ore more in person. For currency exchange orders less than $1,000, there is a fee of $7.50. The bank will ship the currency overnight for an additional fee.
U.S. Bank
U.S. Bank partners with Travelex Currency Services for currency exchanges. The bank provides currency orders that are shipped to you, with currencies from more than 60 countries available. An easily accessible currency converter is available so you can see the updated exchange rate for that day, as well as the fees U.S. Bank fees will apply to your order.