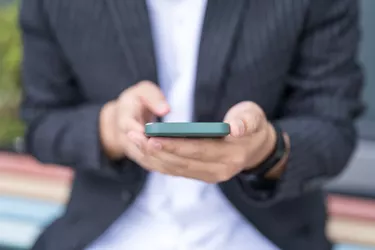 Customers can find an American Express office or ATM location anywhere in the world. Office locations, for example, can be found by calling a customer service number or by looking at company web pages that meet the specific needs of an American Express customer, such as financial or travel services.
Tip
To locate an American Express office, call 1-800-528-4800 or its Global Assist Hotline at 1-800-345-AMEX (2639).
What American Express Does
According to WalletHub, American Express serves as both a card network and an issuer. It differs from credit and banking entities that operate separately – for example, Bank of America (as a card issuer) and Mastercard or Visa (as card networks). American Express services accounts and processes transactions. Its interchange fees, also known as swipe fees, are higher than those of other card networks. Amex cards provide competitive rewards, such as cashback or points or miles toward travel.
American Express gears its cards toward people who have a higher net worth and good-to-excellent credit scores. Most Amex cards are more a charge card than a credit card, which means the balance is paid in full each month. Most merchants take American Express cards, but there are some places where the card is not as widely accepted as Visa or Mastercard, particularly internationally, due to its higher interchange fees.
What American Express Locations Officer
According to its website, American Express's global headquarters are in New York City. The company operates in 110 counties with 55 offices. Many of these offices offer financial services, such as credit card replacement and foreign currency exchange, while others provide travel services, such as purchasing airline tickets or traveler's checks. Some offices may offer more than one type of service. American Express traveler's checks can also be purchased at banks or credit unions.
All Amex offices do not provide financial services. Travel service offices can be standalone or located inside a travel agency. Before visiting an office, customers should call to ask what services it provides and make sure it's open; for example, travel services offices may be closed if they are located in another business or due to the COVID-19 pandemic. Also, before purchasing traveler's checks, customers should check with the office location to verify exchange rates, fees, restrictions and availability.
How to Find an American Express Office
Depending on a customer's needs, most major cities have American Express offices that will suit them. They can call 1-800-528-4800 to find the office closest to them to find out what services it offers or look on the internet. For example, the company has a page devoted to traveler's checks exchange locations – all a customer needs to do is put in a zip or postal code and the nearest locations will pop up. American Express also has a page devoted to its travel services; it works much like the exchange locations page does – by asking for a zip or postal code to locate the nearest office.
American Express has a page devoted to its ATM locations. It will ask for the customer's address and show a map with the nearest machines. These can be in another business; therefore, it's best to call beforehand to make sure the ATM is accessible – if the business is closed, it may not be. Finally, if you're unable to access the internet and are more than 100 miles away from home, the company also has a Premium Global Assist Hotline to help with locating an office, as well as assistance services for lost passports, translation, missing luggage and emergency medical or legal referrals. The number is 1-800-345-AMEX (2639) or 1-715-343-7979.