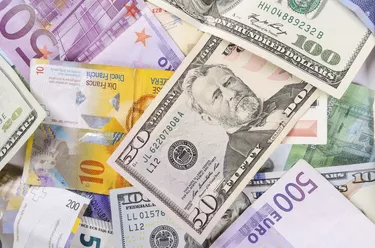 Currency rates can change on a daily basis, making overseas investments or purchases tricky. In some cases, tourists to other countries, for example, put as many of their vacation expenses as possible on a credit card so that by the time their bills come due, they pay less because currency rates have changed in their favor.
Understanding how to calculate foreign currency values will help you decide if an international investment or overseas purchase is a good idea for you.
Why Does Foreign Money Value Change?
A country's money has value based on a variety of economic factors, such as the country's inflation rate, its economic performance (e.g. growth vs. contraction) and overall stability. Currency speculators can also change the value of foreign money, based on their trading.
Most country's "peg" their currency values to a strong, international currency, such as the U.S. dollar. As different factors in a country change, its currency value can increase or decrease. When you look at the price or value of different money around the world during a foreign purchase or investment one day, don't assume it will have that same value days (or even hours or minutes) later.
Calculating Foreign Currency Values
The simplest way to find the value of one foreign currency compared to another is to use an online foreign currency calculator. These calculators are updated daily to give you accurate numbers. Simply do an online search for "foreign currency calculator" or "dollars to yen" or other terms and you'll find a calculator that shows you the rates and/or provides a calculator to put your amount of yen in and see the value of it in U.S. dollars.
If you don't have access to an online calculator, you can do your calculation manually. For example, on the morning of November 19, 2021, 1 yen was equal to 0.0088 U.S. dollars (this figure changed by the minute), while ​$1​ was worth 113.87 yen. If you had ​$100​, your value in yen would be 11,387 yen (​$100​ X .113.87 yen = 11,387 yen). If you wanted to know how much 10,000 yen would be worth in U.S. dollars, you'd multiply 10,000 X .0088 and get ​$88​.
If you have foreign currency and want to exchange it for U.S. dollars, don't assume you'll get the market value for your euros, pesos, yen or Canadian dollars. Foreign currency dealers and exchanges make a profit by changing currencies and charging you for that service. For example, when you come home from a foreign trip and arrive at a U.S. airport, you might find a booth to exchange your foreign currency.
The exchange rate you see might not be the international exchange rate – it might be that company's exchange rate. You might also have to pay a fee. In fact, U.S. News & World Report rates airport exchanges as the worst place to exchange your money. Try your bank, instead.