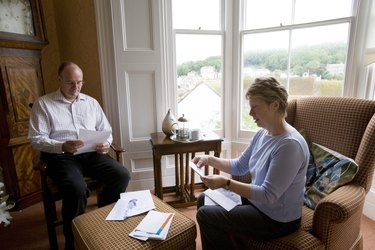 Lowering a Time Warner Cable bill often comes down to cutting back on channel selection. You can also take advantage of discounts and promotional purchases. In some cases, if you sign up for Internet and home phone service with Time Warner, the company will put all three in a bundle for one price package.
Cut Back
At the time of publication, Time Warner had six cable packages. They included the starter package, 20 channels for $19.99 per month, and the preferred package, 200 channels for $49.99. Add-ons cost more, such as the high-definition cable box for $11.25 per month. If you cut back to basic from preferred, that will save you $30 a month. If you miss the channels once you drop them, you can always add them back.
Walk Away
If you're dissatisfied with your bill, speak with a retention representative and let them know you're thinking of leaving. There are no guarantees that Time Warner will lower the bill, but a 2011 article in "The Consumerist" told how some customers left and the company tried to get them back with lower prices. If you've bundled your services into one bill, you might stand a better chance of getting a deal. In one case, Time Warner decreased a customer's bundle bill from $150 per month to $67.17.