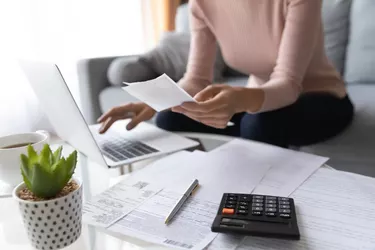 AT&T purchased DirecTV in 2015, morphing itself into the self-proclaimed "largest paid TV provider in the world." All told, some 45 million consumers pony up to pay their AT&T bills, their DirecTV bills or both each month, and AT&T makes it easy.
Nothing has changed if you were already either an AT&T customer or a DirecTV subscriber before the acquisition, and you have numerous options if you're new to catching your favorite TV shows with this provider.
Pay Your DirecTV Bill Online
This option is a simple matter of visiting the AT&T website. You'll automatically be transferred there if you sign onto the DirecTV website instead.
Click on "Make a Payment" and you'll be prompted through the payment process. You can split your payment between two different sources if necessary, such as combining a direct debit from your checking account and a second direct debit from your savings account. You can even spread the payment out over two different dates. AT&T accepts all major credit cards, debit cards, direct debits from savings or checking accounts and AT&T gift cards.
Pay Your DirecTV Bill by Phone
You have a couple of options here. You can do things the old-fashioned way and make a phone call, or you can download and install the AT&T mobile app. The process is the same as making a payment online if you use the app. Just go to "Make a Payment" and follow the prompts.
Otherwise, you can call AT&T at 800-288-2020. You'll reach an automated system, but you can request to talk to a real live DirecTV customer service representative if necessary. You'll be charged a convenience fee if you do this, however. You can also call DirecTV directly to pay at 800-531-3000. Hours for both numbers are 8 a.m. to midnight daily, Eastern time.
You can simply call *729 if you if AT&T is your cellphone provider. Then press 1 to pay with a bank account or 2 to pay with a credit or debit card.
Pay Your DirecTV Bill by Mail
You can mail in a payment if you're more comfortable using the postal service. The address you'd use depends on whether you access your DirecTV service via directv.com or att.com:
The directv.com address is P.O. Box 5006, Carol Stream, IL 60197-5006.
The att.com address is P.O. Box 5014, Carol Stream, IL 60197-5014
Ideally, you've been receiving paper bills from AT&T for your DirecTV service, so the address will already be on the statement and/or the return envelope. Otherwise, be sure to include your DirecTV account number. And don't wait until the last minute because it can take up to 10 days for the payment to hit your account using this method.
Pay Your DirecTV Bill in Person
AT&T provides numerous payment locations if you want to pay your bill in person, maybe because you want to use cash. The AT&T website provides a link to help you find the one that's closest to your location.
You can save yourself a good bit of monthly aggravation if you simply sign up for AutoPay through AT&T. You have the option of using a checking or savings account or a debit or credit card with this option as well. The easiest way to sign up for this service is on either the AT&T or DirecTV website, but it can take up to two billing cycles to activate. Then it's just a matter of being sure that you have an ample balance or credit limit on your payment method each month before that debit or charge hits.
AT&T occasionally offers bill credits when you sign up for this option.