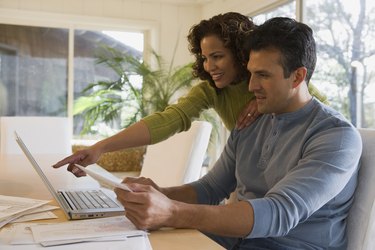 For people who don't have access to cable television, DirecTV can bring television reception to them in the form of a satellite transmission. The company installs a small reception dish where it has an unobstructed view of the satellites in geostationary orbit around the Earth. The company provides a variety of receivers, digital video recorders and secondary units to provide your home with satellite reception. It also has an online site where you can create a payment profile to pay your bill or other options if that doesn't work for you.
The Mail Option
DirectTV allows you to receive your monthly invoice in the mail with a payment stub you can submit each month with your check to mail in your payment. On the payment stub, it has the address to which you make your payment. If you misplace the payment stub or preprinted envelope that came with the monthly invoice, you can mail in your payment to one of its five locations based on the starting number of your Zip code (see Resources).
Pay Online
Create an online account to pay your bill without having to write out a check each month. The site has two options for online payment: a one-time only feature and an automatic payment option. To make a one-time payment or set up an automatic payment each month, follow the instructions to provide the personal information needed. You can pay by credit card or by including your bank's routing number and your personal account number. On the automatic payment option, the company withdraws the payment on its due date. By managing your account online, you have an eco-friendly option that cuts down on paper.
Text Payments
You can also make a payment to DirecTV using the text feature on your smartphone or cellphone. Just type in the word "Pay" and 21880 when using this feature on your phone, but be aware that you are responsible for any texting fees from your phone. You will receive a response that provides instructions on how to pay your DirectTV bill. Enter the information as asked and continue. If your cellphone number is not listed on the account, you will need to have your account number handy or be able to answer the personal questions to confirm your account or identity.
Pay By Phone
Contact the automated payment system by calling 1-800-531-5000. This action also requires the phone you are calling from be listed on the account, or you will need to provide information that confirms the account number associated with your monthly service and bill. If you wish to speak with a live customer service representative, an additional fee for making the payment through the representative will apply, otherwise you can pay via the automatic system without the additional fee.
Other Options
If none of the previous options are available to you, you can also set up an automatic payment from your online banking account, pay by Western Union, Moneygram or make a payment in person to any retail location that supports the PayExchange program, all of which require your DirecTV account number. For Moneygram payments, you must make the payment to the company name DirecTV using 1602 as its city code. For Western Union payments, send to "DIRECTVUT" city code. Be aware that it takes up to two business days for Moneygram and three business days for Western Union to post your account payment.