Fashion-forward without being trendy, the Gap is a popular place to shop for men's, women's, children's, babies' and maternity clothing. Shopping online at the Gap gives customers a bigger selection than at some stores, with added savings and convenience. Many people find it easier to pay their bills online. If you're tired of stamps, checks and envelopes, pay your next Gap bill online and save time and money.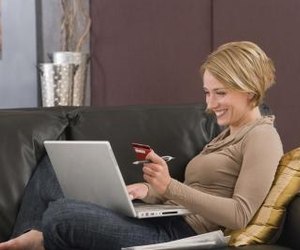 Step
Go to the Gap card-member account services website (see Resources).
Step
Click "Register" under "New Users."
Step
Enter your Gap card number, the last four digits of your Social Security number, your e-mail address and your date of birth. This will validate your online account.
Step
Select a security question and answer, and select a security image. You will be asked for these later to access your account, so don't forget them.
Step
Click "Pay Your Bill," then click "Add a Bank." Enter the name of your bank, your account number and your bank's routing number.
Step
Choose how much you want to pay. The payment you make will be processed within 72 hours.