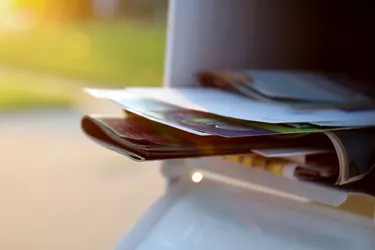 When you purchase a magazine subscription, you might be working directly with the magazine publisher or one of its re-seller agents. Some magazines let you cancel at any time, while others require you to keep your subscription for a specific time before canceling. In some cases, you'll be surprised to learn that after you cancel, you keep getting the magazine – free! Using a few simple steps, you can cancel your magazine subscription in the quickest way possible to avoid paying for more issues you don't want.
Publisher or Agent Subscription?
When you purchase a magazine subscription, you can subscribe directly through the publisher's website, by calling or by sending in a card issued by the publisher. If you subscribed using a promotional piece or a website that offered dozens of magazines, you might have subscribed through a publisher's agent that sells subscriptions for publishers and takes a cut. Regardless of how you purchased your subscription, you can still cancel directly with the magazine.
Timeframes for Canceling Vary
Some publishers will give you a free trial period, charging you after you continue past the trial period. Others require that you accept a minimum number of magazines before you cancel. You can always cancel your subscription at any time, but you might not receive any or all of your subscription fee, based on when you cancel.
If a friend, family member or business associated gifted you a magazine subscription, or this is one a business sent you without your permission, you might have to take a few extra steps, explains Cake.
Cancellation Refund Policies
In some cases, your subscription refund will be pro-rated using different methods. For example, if you received a discounted subscription, that probably came with an agreement that if you cancelled your subscription early, you would need to pay the full subscription rate for the copies you received, which will reduce your refund (if you have one coming).
How to Cancel Your Subscription
The easiest ways to cancel any magazine subscription is to either call or go online and contact the publisher directly. Some magazines are published by a publishing house that publishes multiple titles, such as Hearst and Conde Nast. Instead of calling the particular magazine you want to cancel, you'll call the publisher and speak with its circulation department.
If possible, have a copy of your magazine handy so you can get your customer number off your mailing label. If you don't have that number, anyone can cancel your subscription simply by calling and giving them your name and street address.
If you don't have your subscriber number, you might need to receive and respond to a cancellation email or text, sent to an email address or phone number associated with your account. If you're canceling an e-zine subscription, go to the website where you access and read your publication.
If you want to cancel by phone, look at one of the first few pages of the print magazine for the publisher's masthead, which lists the various departments. Look for the circulation department phone number. You will often find directions for canceling or renewing.
If you're canceling an e-zine subscription, look for contact information on the website, using the keywords "Contact us," "Circulation," "Subscriptions" or "Cancel." You'll often find the search function near the top-right of a web page, next to an icon that looks like a magnifying glass.
If you want to cancel a print subscription online, go to the magazine's website and do a keyword search for "cancel" or "circulation." You can also scroll to the bottom of the home page and look for "Contact" or "Subscriptions" buttons. Click the link and follow the directions.
You can also cancel via the agent you used. For example, Amazon has directions at its website for cancelling magazine subscriptions you purchased via their site.
If you're being billed monthly, quarterly or annually for a subscription, use the steps above to cancel. In addition, contact the credit card company, your bank, or whichever service is being debited for these charges. Ask them how you can make sure you are not billed again past a certain date.
If you stop payment on a charge that you agreed to pay, that can impact your credit reports and score if the publisher reports you. Make sure you only block a business from charging you after your final (agreed-to) charge has been made.
If you're ever charged for a subscription you cancelled, try to get the publisher to issue you a credit. If they won't, contact your card issuer or bank and open an investigation to get the charge removed from your card. If the money was debited from a checking or savings account, you might not be able to recover those funds.
Many magazines make much, or most, of their money from advertising. The more readers they have, the more advertisers are willing to pay for ads. When someone requests a subscription (as opposed to magazines offered for free in racks), that reader is considered more valuable to advertisers.
When you cancel a magazine subscription, the publisher might continue to send you free copies so that it can claim you as a direct request for subscription, improving its circulation quality. In addition, magazines gamble that you'll regret your decision to cancel and will renew if you continue to receive the publication two or three more times. During this period (which might last up to a year), you will probably get more low-cost subscription offers.